What do you get when you mix a super cool bird with a casino game? Well, if you're Aristocrat, you come up with the 2Can slot machine.
This isn't the first slot to be based on an animal, with many others, including Rhino Charge, enjoying big time success.
If you aren't familiar with the toucan, it's one of the most colorful and unique birds in the world. While we'll talk about this bird later in the review, let's reserve the next few paragraphs for information on the slot game itself.
The Jungle Theme
As you play 2Can slots, you'll feel as if you're taking a step into the jungle. Making it lifelike is the bright graphics, attention to detail, and sound effects.
While the Toucan acts as the bonus symbol, there are many other animals that make an appearance in order to provide a good time. These reel symbols include but are not limited to:
Monkeys
Butterflies
Frogs
Cheetahs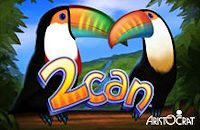 Just the same as other games, Aristocrat has filled out extra reels with playing card symbols. While the 9 through Ace symbols are not as high paying as others, these can be used to form winning combinations.
Note: in addition to the Toucan wild symbol, the Wild Orchid acts as the scatter (more on these below).
Game Details
Now that you're familiar with the setup of a 2Can slot machine, let's examine some of the game details that will dictate how you play:
There are 5-reels and 25-paylines.
The maximum jackpot is $50,000.
The minimum bet is $.50.
It doesn't matter if you are new to slot machines, it doesn't matter if you are a high roller or on a budget, this game has something for you to enjoy.
Getting started means doing two things:
Select how many credits to wager per spin, with your options including: 25, 50, 75, 100, and 125.
Choose your denomination, ranging from $.02 on the low end to $5 on the high end.
Tip: if you're a high roller, you can wager up to 625 coins per spin.
Become a Bonus Player
As you spin the reels and learn more about 2Can slots, you'll find yourself enjoying base gameplay. Even so, you're always looking forward to that next bonus game.
Let's get started by talking about the free spins bonus. When you collect three or more scatter symbols, you're awarded free spins. Three symbols are good for 5 free spins, four for 10, and five for 20.
Even more exciting is what happens when you're playing with house money. If you land a Wild Toucan symbol at this time, the bird leaves the game but soon comes back with another wild. Now, with two of these in play, you have a greater chance of winning.
The scatter symbol is important for another reason: it can payout up to 150x when you collect enough of these on the reels.
Things to Know About the Toucan
By now, you know that a 2Can slot machine can be exciting to play. If you still have questions about this species of bird, maybe the following details will clear the air:
There are many kinds of toucan, ranging in size from approximately 11 inches to 30 inches.
Toucans typically live in tropical regions, with these birds often found in the Caribbean, South America, Central America, and Mexico.
Although toucans typically eat fruit, they aren't opposed to hunting for prey, including lizards and many types of insects.
Is this starting to ring a bell? If so, it may be because you've come across a toucan as part of popular culture.
For example, this bird has long been the mascot of the popular Froot Loops cereal.
Our 2Can Slots Review
It may not be spelled the same way, but this game is based on the toucan bird that has carved out a special place in today's world. It's bright colors and personality make it an animal lover favorite.
If you're excited about what you've read to this point, it may be time to give this game more of your attention.
In addition to what you've read above, this video provides an inside look at how to play the game and what type of potential the bonus round holds.
Overall, 2Can is a slot machine with a unique and appealing theme, bonus features, and a nice size jackpot. When you find yourself on the casino floor, searching for the next game to play, you may want to chase down this colorful bird.