If you look at 5 Frogs slots and see nothing more than another Asian-themed machine, you may be missing out on something special.
Much the same as 5 Dragons, both in name and theme, this game is a pleasure to play for many reasons.
While the name would have you believe it's based on "all things frogs," nothing could be further from the truth. In fact, you won't find a single one of these on the reels. How odd is that?
Once you get past this initial confusion, which is nothing more than a minor hiccup, you can spin the reels and begin to formulate your opinion of the game.
Below, we're going to review 5 Frogs in great detail. We'll discuss some of the top features, as provided by Aristocrat, how to play, how much you can win, bonus games, and much more.
Details to Know
Every 5 Frogs video slot machine is configured with 5-reels and 40-paylines. This is a traditional setup, albeit with a few more paylines than many games from Aristocrat.
Despite the confusion regarding the theme, which we discussed above, the actual playing experience is quite enjoyable.
It provides a unique environment, thanks to the use of bright colors, such as gold, on a dark background.
Reel symbols are varied, with playing card values from nine through Ace paying the smallest awards.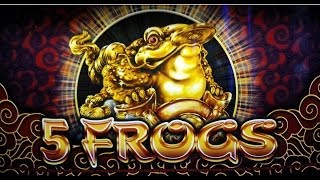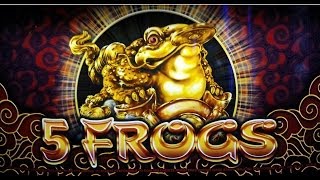 Other symbols, those that are more unique to the game, include: pink flowers, bonsai tree, and a gold lantern (among others).
There's nothing tricky about winning. If you collect enough (three or more) of the same symbols on the same payline, running from left to right, you're a winner.
At the top of the screen, you'll find the paytable. Pay close attention to this at first, as it shows you just how much money you can win with each combination.
At the bottom of the screen, there are a few features that are worth pointing out. This is where you will choose your wager and number of paylines. It's also where the autoplay feature is located. With this, you can spin the reels automatically, giving you the opportunity to sit back and watch the action unfold.
Let the Game Begin
During base gameplay, you should have your eyes set on one thing: winning money. Even if it's a small win with three nine symbols, it's better than nothing at all.
The longer you play the greater chance there is that you'll hit for the jackpot. As the highest paying symbol, collecting three or more golden lanterns will put a lot of money in your pocket. Five of these symbols are good for a payout of 1,250 credits.
An Exciting Bonus Round
There are people out there who will tell you that the 5 Frogs bonus game isn't all it's cracked up to be. There are also people out there who have firsthand experience winning big money through this bonus feature.
You can make up your mind once you collect three scatter symbols (Ying Yang) and enter the free spin bonus game.
At that point, you're asked to choose how many free spins you want. You can choose from several options between 10 and 25 free spins, each one having a multiplier.
So, if you opt for a lesser amount of free spins, you'll gain access to a more powerful multiplier.
Tip: as you continue to play and enter more bonus rounds, experiment with the different free spin and multiplier options. This will allow you to see what best suits your playing style.
3 Reasons to Play a 5 Frogs Slot Machine
If you don't have any experience with this game, if you have no preconceived notions, you're in a good place. This allows you to play the machine with a clear mind.
In our opinion, there are three primary reasons to get started:
The configuration of the game and layout of the theme is user friendly.
The bonus feature is more exciting than most, with the option to choose your number of free spins and multiplier.
There are many high paying symbols, always giving you something to shoot for.
These are three of the best reasons to play 5 Frogs, but there are other benefits you'll pick up on as you spin the reels.
The Choice is Yours
The casino floor is full of slot machines, all of which are enticing for one reason or another.
Aristocrat is a top developer, so it only makes sense to pay a lot of attention to its offerings. If you come across a 5 Frogs machine and decide to play, let the information in this review be your guide.