If you're familiar with the details of a 50 Lions slot machine, if you enjoy everything this game has to offer, there's a good chance that you'll fall in love with 50 Dragons.
While many people consider the two games identical, outside of the theme, there are some differentiating details to become familiar with.
With a 5-reel 50-payline configuration, most players are comfortable with the layout from the moment they lay eyes on the screen.
In the review to follow, we're going to discuss the many features and benefits of 50 Dragons slots. Before we do that, however, let's talk about a few of the most exciting things:
The jackpot of 50x your wager is won when you fill the entire screen with Golden Dragon symbols.
The Pearl symbol acts as the wild.
The Gold Ingot symbol acts as the scatter
Below, you'll learn more about the wild and scatter symbols, including how these can turn you into a big winner.
Play Online or at a Casino
You can play this slot game online or at a land based casino, with both experiences identical in terms of the features.
If you're interested in playing at a local casino, use the AristoApp to locate this game as well as all your other favorites.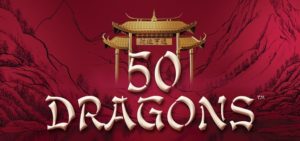 Playing in person means wagering cold hard cash. But when playing online, you have another option: spinning the reels for free.
There are benefits of real money and free gaming, so think carefully before you get started. The last thing you want is to play for free, just to find that you could have won a big award if you had wagered real money.
Tip: although a real money 50 Dragons slot machine brings forth big fun and plenty of action, playing for free allows you to first better understand the game and formulate a winning strategy.
Most Important Reel Symbols
It doesn't matter how many paylines you play, you're sure to come across every reel symbol at some point. Just like all slot games, some symbols hold more weight than others.
We want to take this time to discuss the three most powerful (and potentially profitable) symbols:
Golden Dragon. As noted in the introduction, this symbol is the cream of the crop. Not only is it the highest paying, but it also brings about a fierce growl from the machine. This sound effect will move you to the edge of your seat, knowing that you could be closing in on a giant jackpot.
Gold Ingot. As the scatter symbol, you want to collect three or more of these on reels one through three. This is all it takes to activate the Free Spins Bonus game. In addition to entrance to the bonus round, three scatters also pays a 4x multiplier.
Aristocrat is a big fan of wild symbols, with the Pearl serving this purpose in 50 Dragons. You'll only find this symbol on reels two, three, four, and five, but when you do it can replace any other to help form a winning combination.
Make no bones about it: these three reel symbols are the ones that you want to come across as often as possible. There are others that can award you cash, but these ones are above and beyond the rest in terms of what they offer.
Spin the Reels for Free
As noted above, you need to land three or more scatter symbols to reach the Free Spins Bonus game. If you're lucky enough for this to happen, you're awarded 10 free spins.
Note: collecting three or more scatters during this round awards you five additional free spins.
While the free spins will excite you, the way the wild symbol is used is even better. With each free spin, another wild is added to the game. Over time, this means one thing: you can stack wild symbols, putting you in position for a humongous win.
Our 50 Dragons Slot Machine Review
Don't confuse this machine with 5 Dragons, also developed by Aristocrat. The name may be similar, but this review proves that the game itself is 100 percent unique.
There are many features that attract players to 50 Dragons, with some of our favorites including:
Available online (for free and real money) and in brick and mortar casinos.
Opportunity to enter one of the top free spin rounds in the industry.
A top payout of 50x your initial bet.
When you enter a casino and lay eyes on a group of 50 Dragons slot machines, you may realize that your time to play has come.