Regardless of your experience level or expectations, 8 Ball slots by Playtech provides everything you are looking for as a player.
It doesn't matter if you are playing on your computer or mobile device, this game is setup to provide you with an enjoyable experience that is often accompanied by big winnings.
Let's start out by talking a bit more about Playtech. The company provides online casinos with more than 500 of the best games the industry has to offer. While there are many games to choose from, an 8 Ball slot machine should always be at the top of your list.
As the name suggests, this is a billiards themed game. When you combine this popular game with the features of a slot machine, you end up with an online experience that is anything but normal (and that's a good thing).
8 Ball Slot Machine Details
With a vintage theme, you'll never confuse 8 Ball slots for one of the more modern games in the Playtech lineup. And there's nothing wrong with that. Sometimes a traditional slot machine provides you with the best experience.
To improve your understanding of the game, let's examine some of the finer details:
3-reel configuration.
Ability to wager anywhere from a single nickel to $5 per spin.
Top payout of 2,000 coins.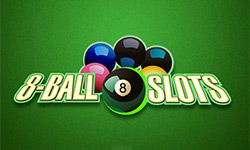 You won't get rich playing 8 Ball slots, even if you hit for the jackpot, but there's more than enough money to be won.
As you play, you'll notice two distinct sets of reel symbols: striped and solid pool balls.
Your goal is to collect any combination of three striped or solid balls, as this leads to a small payout.
Bigger winning combinations, such as 13 and 15 balls, lead to the highest payouts.
Of course, we can't talk about this game without focusing on the famous 8 ball symbol. It's not striped and it's not solid. Instead, it has a special appearance that you'll never overlook.
This is an important symbol for a reason: three of these on the same payline awards the 2,000 credit jackpot.
Free or Real Money?
You have many decisions to make when playing 8 Ball slots, including whether or not you should wager real money.
If you want the opportunity to win money in return, including the 2,000 credit jackpot, a real money game is what you're looking for.
Conversely, free 8 Ball slot games are also available at many online casinos. When you play this type of game, you don't have the chance to win real money. What you can do, however, is enjoy every spin of the reels without the risk of losing anything of value.
Tip: if you're going to play for free, do yourself a favor and turn this into a learning experience. This way, if you ever deposit real money in the future, you'll have a good idea of the strategy that gives you the best chance of success.
Best Reasons to Play
Due to its unique configuration and pool theme, you'll never know what 8 Ball slots have to offer until you actually spin the reels. Even so, let's look at some of the best reasons to play:
Online casinos offer free and real money games.
You can spin the reels for a nickel.
The pool theme provides a unique playing experience.
Don't assume that 8 Ball is the "same old, same old" when it comes to online slot machines. It truly is a unique game that's worth experiencing, even if only one time.
Billiards Facts
Why would Playtech design a game based on billiards? To start, this game of skill dates back to the 15th century. Along with this, here are some other things you need to know:
Pool is played in countries throughout the world.
It is considered to be one of the safest sports, which attracts players of all ages.
There are many pool tournaments, some of which have top payouts of six figures or more.
If you're the type of person who enjoys a good game of pool, you're also the type who will have the time of his or her life playing 8 Ball slots.
SlotsJack Says Yes!
At SlotsJack, we like slot machines that are different than the rest. After all, a unique experience is one that will keep you excited from beginning to end. This is exactly what you get with an 8 Ball slot machine.
Playtech knows what it's doing, and this is evident by the popularity of this online game. If you want to bring together the excitement of 8 ball pool and slots, you now know where to start!