It doesn't matter if you're seeking a free online slot machine or one that you can play with real money, Aladdin's Wishes by Realtime Gaming has you covered.
Once you find a casino that offers this game, which isn't difficult to do, you're in position to enjoy all of the magic that is sure to present itself.
When it comes to magic, good luck, and making your dreams come true, there's no folk tale character more powerful than Aladdin.
Now do you see why RTG selected this theme for a slot machine?
Enjoy the Experience
The 5-reel, 20-payline setup is similar to many other games by the company, such as Achilles.
While the configuration may be shared by many other games, the theme is unique and there are a variety of features that add to the intrigue.
From the progressive jackpot to the free game feature, the more you play the more excitement you'll experience.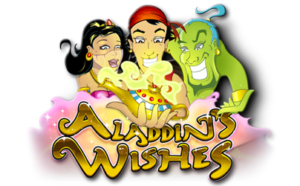 The real world is a scary place. Fortunately, Aladdin's Wishes takes you to a mystical fantasy land where there's nothing to worry about. You should only have two things on your mind: having a good time and winning money.
In addition to Aladdin himself, there are many other reel symbols, including but not limited to: magic carpet, magic lamp, monkey, swords, genie, and a princess.
One of the primary drawbacks (at least for some people) of an Aladdin's Wishes slot machine is the inability to wager a lot of money.
Generally speaking, this game appeals largely to penny slot and low denomination players. You have the ability to wager anywhere from one penny to one quarter per payline.
Even if you make the maximum bet of $.25 per payline, you're only wagering $5 per spin.
The Magic of Extra Features
Thanks to the theme and the opportunity to win a progressive jackpot, base gameplay is always exciting. But of course, RTG didn't stop there. The company added a variety of extra features, with each one improving your chance of winning.
Here's a rundown of these features:
The Aladdin wild symbol. This one substitutes for all others, with the exception of the magic lamp. With one of these on the screen, you have a better chance of forming a winning combination. You'll only find Aladdin on reels two, three, and four.
The magic lamp scatter symbol. This is special for one important reason: three or more of these activate the Aladdin's Wishes feature. For each of these that you receive, you're given the option to choose a lamp. With the right choice, you can win up to 25 free spins. Other prizes include a multiplier of up to 100x your original winning spin.
What About the Progressive?
We mentioned this above, but it's worth touching on in greater detail. After all, it's the progressive jackpot that attracts many people to the game.
You don't have to do anything special to win. In fact, you don't even need to make a maximum wager in order to qualify. Instead, it's awarded randomly at the end of any game.
Note: the progressive jackpot counter is located above the reels, so keep an eye on this as you play. Don't be surprised to see the payout push well into the six figures.
Play an Aladdin's Wishes Slot Machine
By now, you should understand why Aladdin's Wishes has grown into one of RTG's most popular games.
The theme is unique, the extra features are robust, and the progressive jackpot can turn you into a wealthy individual in an instant. When you add this to a maximum payout of 50,000x your total wager, you have a winner in every sense of the word.
Even when you're playing for free, Aladdin's Wishes provides a solid experience that is full of thrills.