NetEnt has never stopped short of providing players with the best possible online slot machine experience. There is one reason for this: the company is always looking to release a game that outdoes the rest. This is where Aliens slots come into play.
Although the Aliens movie was released on July 18, 1986, NetEnt was able to bring it back to life.
Even though the game is based on the famous movie, the "fear level" is not nearly as high. And here's why: with the slot machine, your primary concern is winning a lot of money.
By combining modern features, such as real-time animation, with a traditional slot configuration, the Aliens slot machine brings you the best of both worlds.
The 5-reel, 15-payline setup is a standard in the online casinos of today. Base gameplay is enjoyable enough, but there are a variety of additional features, such as a wild symbol, that provide even more reasons to play.
Other Important Points
There's nothing wrong with jumping right into the action, but taking in a few basic points will help you better understand what you're up against.
To start, you can wager anywhere from a penny to a dollar on each payline. This gives you control over your bet, while also making the game affordable for a large number of players.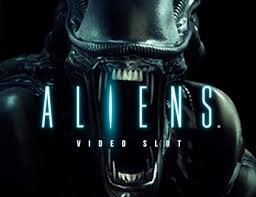 Despite the fact that there is no progressive jackpot (which is a bit disappointing), the top payout of 570,000 coins is nothing to sneeze at.
Aliens video slots are also mobile compatible, with an iOS and Android version ready for players. This is a nice feature for those who like to spin the reels on their iPhone, iPad, or some other type of smartphone or tablet.
Play Aliens for Free Online
If you don't want to deposit real money, if you would rather play for free, you're in luck. NetEnt has released a free version of Aliens slots, allowing you to play "on the house" for as long as you wish.
No, you can't win any real money when playing for free, but that doesn't take anything away from the experience itself.
Features and the Bonus
The Aliens slot machine has a unique three level setup that ensures plenty of action from start to finish:
Level 1: add multipliers to the Alien Activity Meter with the idea of receiving the bonus.
Level 2: NetEnt refers to this as the Encounter level. The biggest benefit of this level is a guaranteed payout.
Level 3: if you're lucky enough to make it through the first two levels, you'll find yourself in The Hive. It's here that you receive five re-spins. If you're successful in taking out the Queen Hive, you'll receive the maximum payout.
The bonus round is all about the wild Weyland-Yutani symbol. It appears on the second and fifth reel during Level 1, as well as on all reels during the Level 2 bonus feature. The wild substitutes for all others, allowing you to more easily form a winning combo.
The SlotsJack Review
We like anything that has to do with aliens, which is why we're also big fans of NetEnt's Alien Robots slot game.
Based on the famous movie, there's nothing scary about Aliens slots. The theme is spot on, the jackpot is huge, and the three level setup is unique.