Released to the public in February 2016, the Aloha Cluster Pays slot machine by NetEnt has quickly become a player favorite.
You can visit the NetEnt website for more information on the game, as well as the ability to play for free. And of course, you also have the ability to spin the reels for real money via one of the many online casinos that offer the game.
In the review to come, we'll discuss many of the features that allow Aloha Cluster Pays slots to standout in an ever growing industry. For now, however, we want to mention a few of the features that players have come to enjoy:
Cluster Pays
Free Spins
Substitution Symbols
Sticky Win Re-spins
Even if you don't know the first thing about these features – some of which are unique to NetEnt – you'll pick up on how to play as you get started.
Although Hawaii isn't a hot spot for gaming action, this video slot will have you feeling like you're lounging on a white sandy beach.
With 6-reels and 5-rows, we enjoy the fact that Aloha Cluster has a somewhat unique look and feel. After all, you can only play games with the same configuration for so long. At some point, you begin to get bored.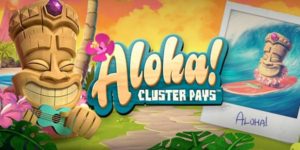 To go along with everything we've discussed thus far, we can't overlook the sound of tropical music and the use of high quality graphics and animation. It's these types of details that make for a well rounded experience.
Aloha Cluster Pays Free Play
You know you can wager real money, but many players overlook the opportunity to play for free. Even better, you can do so without any download.
The biggest benefit of free play is the fact that you don't have to risk any of your own money to enjoy the game. Instead, everything you do is based on the premise that you simply want to have a good time.
Note: the free version has become a big hit among US based players, as they are not permitted to play real money online casino games at the present time.
It doesn't matter if you're playing with real money or spinning for free, you'll enjoy the mobile friendly arrangement. This makes it simple to get involved with nothing more than an Android or iOS tablet or smartphone.
Incredible Features
As one of the newest NetEnt games, Aloha Cluster Pays video slots are hard to beat in two departments: graphics and features.
Right now, we're going to focus on the features that make the game so popular.
First off, you'll quickly realize that there are no paylines. Right off the bat this improves your chance of winning. Also, there is the use of a wild symbol, which can appear anywhere on the screen.
As you can tell by the name, clusters are a big part of this machine. A group of nine or more symbols is considered a cluster by NetEnt standards. With these on your screen, the Sticky Win Re-spins is activated.
While the original cluster holds steady, the other symbols re-spin. With this, you aren't betting any additional money. Also, there is no chance that you can lose what you've already won. Instead, the cluster size simply increases as a means of paying you more money.
Finally, it's well worth mentioning the free spins feature. Just the same as Alien Robots slots, a little bit of luck will take you to this bonus game. Reaching this bonus round means collecting a minimum of three free spin symbols during base gameplay. You can win up to 12 free spins.
Note: there is a retrigger feature that allows you to spend more time in the free spin game.
Should You Play?
The big question on your mind is whether or not Aloha Cluster Pays is worth your time and money.
If you're on the fence, you can always play the free version to get a better feel for what the game offers. Here are some of the reasons why we consider this a good choice:
Full of extra features.
Free and real money options.
Mobile friendly.
A unique configuration, with no paylines.
A beautiful, modern theme (the graphics are killer).
A Review to Guide You
Make sure you read this review in its entirety before playing the Aloha Cluster Pays slot machine. The information you gather will help you understand how to play and win.
It hasn't taken long for many bettors to move this slot to the top of their playing list, and we can see why. If you want to view the game in action, check out the official NetEnt YouTube video.