With a Middle Eastern theme, a variety of features, and a straightforward configuration, Arabian Nights slots has worked its way into the top tier of NetEnt video slot machines.
Although there are many online slots to choose from, many players are immediately attracted to this one.
In the review to come, we're going to explain why Arabian Nights is a big hit. Even so, don't expect to understand everything about the game by the time you're done. This is one of those machines that you need to play in order to enjoy the true value.
The Arabian Nights title has been used time and time again, from movies to television shows to music. However, none bring nearly as much excitement as this game.
Betting and Winning
The Arabian Nights slot machine is made up of 5-reels and 10-paylines, a setup that most bettors can easily understand.
The minimum wager is a single coin on one payline, with the maximum reaching all the way up 10 coins total. With a denomination that can't be changed, you'll want to be careful as you place your bet. Set at a $.50 minimum, you can wager up to $5.
The bad thing about this setup is that it doesn't cater to penny players or high rollers. Instead, it's geared toward those who sit somewhere in between.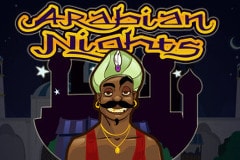 There are two other important things to know about playing:
You can play Arabian Nights slots free. There is no minimum wager required, allowing you to play for nothing but fun, but at the same time you can't win any real money.
It's available on both Android and iOS mobile devices, which is the perfect setup for tablet and smartphone players.
The Middle Eastern theme remains true throughout the game, including both the background as well as the reel symbols and audio. This helps keep you in the mood and on track, no matter if you're playing for free or wagering real money.
How to Play and Features
The reel symbols fit in nicely with the theme and include objects such as a camel, a sultan, a fez, and a tent. Along with these, NetEnt used poker card symbols ranging from nine through king to fill out the rest of the reels.
The sultan is the man of the hour, as he acts as the wild symbol. Just as importantly, the genie pot doubles as the scatter. These symbols don't always result in a win, but any time you see one on your screen you should be excited about what it could do in regards to the outcome.
Arabian Nights Slot Jackpot
Base gameplay is always a thrill a minute, as you can win hundreds or even thousands of dollars based on the reel symbols you collect and your initial wager.
However, it's the Arabian Nights slot progressive jackpot that really gets players excited. You're eligible to win as long as you make a real money wager. Every time a player makes a bet and doesn't win the jackpot grows. You only have to do one thing to win: collect five jackpot symbols on the same active payline. This is easier said than done, but the opportunity to win is always there.
Note: the progressive jackpot varies based on the last win, but it's typically in the $2,000 to $5,000 range.
Bonus Action
Three or more genie pot symbols take you to the free spin bonus feature, with the opportunity to earn up to 15 free spins. Even better, there is a 3x multiplier tied to any payout during the bonus round.
Note: you don't have to collect the three genie pot symbols on the same payline in order to trigger the free spin game.
Our Review: It's a Winner
It's hard to pinpoint exactly why the Arabian Nights slot machine is such a big hit among players from all over the world.
At SlotsJack, we like the simplicity associated with the game. The configuration is easy to understand, there aren't too many betting options, and the theme is solid. When you add this to a progressive jackpot and free spin feature, you have an online video slot that will probably remain popular well into the future.