Do you ever ask yourself this question: what attracts one person to another?
If so, male or female, you're not alone. The same thing could be said about slot players. Why do you choose one game instead of another?
NetEnt set out to answer this question by developing the Attraction slot machine. With a name like this, you may not have a clear idea of what the game is all about. For this reason, we've taken the time to compile some important information related to the machine.
First off, you can compare the theme of Attraction slots to any other game in the NetEnt lineup and you won't find anything similar. It's truly a one of a kind experience.
But there is more to enjoy than the theme. You will also be attracted to the bonus features, such as the sticky wilds and respins (more on these below).
The Right Bet for You
Just as you need to find the guy or girl that's right for you, the same holds true with the wager you place before spinning the reels.
You start by setting your level of attraction between 1 and 10. From there, you assign a monetary value ranging from $.01 to $1. In short, this means you can place a minimum bet of $.01 and a maximum of $10.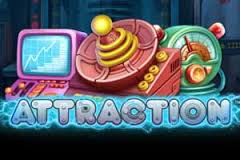 While love never comes for free, this isn't the case with the Attraction slot machine. Instead, NetEnt decided to offer a free version of the game. This is an excellent choice for players who:
Want to learn how to play before wagering real money.
Don't have the opportunity to play with real money in their country.
Are on a strict budget, meaning that playing cash based casino games is currently out of the question.
Also, don't forget about this: it's mobile friendly. This allows you to spin the reels via your Android or iOS device.
Theme, Payouts, and More
This theme (unlike Love on the Nile) isn't based on love in regards to the graphics and audio. Instead, it's all about science. This is why you'll come across reel symbols such as a computer and atom. Playing card values are also used.
Prizes are awarded when you receive three or more of the same symbol on an active payline. For example, three or more symbols can pay up to five times your wager. However, if you collect five or more matching symbols, a 150x payout could be waiting for you.
The wild symbol can appear on the second, third, and fourth reel, with this replacing any other to improve your chance of forming a winning combo. In the event that a wild and magnet symbol appear on the same reel, the Magnet and Respins Feature is activated. This means one thing: you receive a respin with a sticky wild in place.
Our Attraction Slot Machine Review
Let's put it this way: we're attracted to everything Attraction slots have to offer. We're particularly big fans of the theme, as it's not something that's "been done" over and over again.
It would have been nice to see a progressive jackpot, much like the Arabian Nights slot, but it's not a deal breaker. Overall, we give it an 8 out of 10. In other words, it's worth playing at least once.