Is it possible for an online slot machine to attract a large following through the use of a "basic" theme?
While some companies are always on the lookout for another niche to tackle, NetEnt has proven its ability to win by casting a broad net. This is one again proven by the release of the Beach slot machine.
You read that right: this video slot is all about the beach. With a similar approach to Attraction slots, the company was able to take a wide-angle view at a popular topic and immediately turn it into a success.
It doesn't matter if you enjoy spending time at the beach or would rather vacation inland, nothing changes the fact that this is a thrilling game on many different levels.
With approximately 372,000 miles of coastline throughout the world, there's no wondering why Beach slots has taken the online casino world by storm.
Now that we're done talking about the theme, it's time to turn our attention to the game itself. In the review to come, we'll discuss how to play, how to win, and which features will give you the greatest joy.
The Configuration
With three rows, five columns, and 20 paylines, we're big fans of the configuration. It's not so complicated that you'll be overwhelmed when you sit down to play, but not so simple that you'll begin to wonder if you're missing out on something better.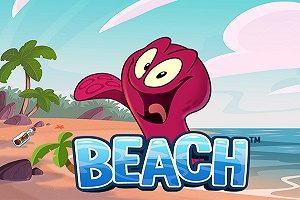 Adding to the configuration is the ability to choose from a variety of betting denominations. NetEnt wanted to make this machine available to as many players as possible, and that is exactly what it has done. With 20 paylines, you can wager anywhere from a penny per spin to $200.
You won't find many online slots that offer this type of flexibility, but this one feature has gone a long way in making the game so popular.
Finally, it wouldn't be a Beach slot machine review if we didn't mention that you can also play on your mobile device. You have the ability to spin the reels on your computer, but it's also compatible with most Android and iOS tablets and smartphones.
Beach Slots Free Play
We've discussed the many coin denominations, but what we've yet to mention is the ability to play for free.
If you don't have the money to wager, if you like the idea of playing for nothing more than fun, the free online Beach slot machine could be just what you need.
The biggest benefit of the free game, outside the ability to play without wagering real money, is the fact that the configuration and features are exactly the same. You get the same experience as you would with the real money version, all without the risk
Symbols and How to Play
The graphics are colorful, the animation is simple, and the sound effects never get in the way.
The reel symbols are just about what you would expect, with these including items such as an oyster, starfish, treasure chest, and seashell.
Base gameplay is the same as every other online slot machine. Your goal is simple: collect as many like symbols as possible on the same payline.
As you play, you're likely to come across two unique wild symbols:
A piece of wood with the word "wild" on the side
Octopus
Both of these symbols can replace any other to form a winning combination, but there is something else you need to know: the octopus wild symbol can replace two others in the same column. Plus, it triggers a 2x multiplier.
Bonus on the Sand
It's a bit disappointing that the Beach slot machine doesn't have a separate bonus game. Fortunately, there are a few cool features that more than make up for it.
For instance, the message in a bottle symbol is the scatter. With three or more of these anywhere on the screen, you can win from 8 to 24 free spins.
At SlotsJack, we've made it clear time after time that we're big fans of progressive jackpots. Although this game doesn't include a progressive, the top payout of 40,000 coins is more than enough to suit our needs.
Relax, Spin, and Win
Like most, you probably enjoy a day at the beach. This gives you the opportunity to relax, unwind, and spend some quality time outdoors.
The Beach slot game is the same in many ways. You can sit back, spin the reels, and hope that everything about your experience is beautiful.