Despite a similar name, this offering by NetEnt should not be confused with The Big Bang Theory slot game developed by Aristocrat and found in land based casinos throughout the world.
Instead of a machine based on a popular television show (with a nice twist of comedy), this one is all about science. While that may sound boring, wait until you sit down and spin the reels. It's at that point that you'll realize just how much Big Bang slots have to offer.
Many people believe that the universe started as nothing more than a single point. That's what the Big Bang is all about. While we could talk about this for hours on end, this review is all about the online slot machine.
With a science theme, you may find it hard to believe that you'll remain engaged for a long period of time. However, this is where NetEnt has always excelled. Forget about the actual meaning of the game's title and instead focus on the layout and features.
Things to Know
First things first, the Big Bang slot machine has 5-reels and 25-paylines. This is the same as many games from the company, some of which are every bit as popular (if not more so).
Moving on, there are six coin denominations to choose from: $.01, $.02, $.05, $.10, $.20, and $.50.
With four different playing levels, you have the opportunity to wager up to 100 coins per spin. Of course, this is only for high rollers, with others, such as those on a budget, able to opt for a much smaller bet.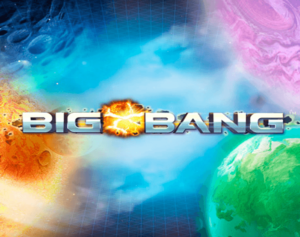 Note: the maximum jackpot is listed at 263,032 coins. This is a huge number, especially when compared to games like Beach video slots with a top prize of 40,000 coins.
Mobile and Free Play Options
If you're searching for more than a standard real money online slot machine, you've found it here.
There are a couple things you can do to spice things up:
Play for free. With the free play option, the casino doesn't require you to make a deposit to spin the reels.
Use your mobile device. Did you know that Big Bang slots are compatible with both iOS and Android devices? For example, you can play via your iPad or iPhone.
Mobile and free play options may not make much sense for you right now, but you never know if your situation could change in the future.
A Journey Into Space
As you get started, you'll soon realize that this game has a space theme (if you couldn't tell by the name). While the dark background is a bit mysterious, NetEnt did a nice job using colorful reel symbols to cheer things up.
Speaking of reel symbols, the most basic include playing card values from 10 through Ace. These don't payout the most money, but they do give the game a nice casino feel.
Other symbols are more unique, such as moons, plants, and a sun (which serves as the bonus).
Base gameplay is always enjoyable, due primarily to the theme and ability to win a lot of money (see above).
There are also bonus features that add to the experience, such as the Multiplier Ladder. When you win a prize in subsequent spins, you'll find yourself climbing the ladder. Do this five times in a row and your multiplier will reach 32x.
Note: once you fail to win, you fall back down to earth.
Why we Enjoy Big Bang Slots
When you consider the fact that most our team enjoys a good science discussion, it's only natural that we have a positive take on Big Bang slots.
With so much to offer, it's hard to get the point across as to how much this game brings to an online casino. We've talked about some of the top features above, but here are three reasons why we've fallen in love:
Varied betting options, which attracts everyone from high rollers down to players on the smallest budget.
A top prize of 263,032 coins, which is competitive with even the highest paying online slot machines.
A Multiplier Ladder that will have you cheering for consecutive wins.
NetEnt takes great pride in providing a top notch experience through all of its games. The Big Bang slot machine is a proven winner, as many players consider it one of their favorites. You'll have to play for yourself to decide if it suits your wants and needs.