What comes to mind when you hear the phrase "Big Ben?" Like most, you probably think about the iconic landmark in London.
But we're here to talk about something else: the Big Ben slot machine developed by Aristocrat.
You may never find the time to visit London, but that doesn't mean you'll never have the opportunity to play this game. It doesn't matter if you do so on a casino vacation or online from the comfort of your home, there are many ways to play.
In this review, we're going to focus on the basics. From how to play to ways to win, from bonuses to payouts, you'll learn everything you need to know in order to be confident when you sit down to spin the reels.
How to Play
Up first is the layout. Big Ben slots feature a 5-reel, 25-payline configuration with a maximum bet of 100 credits. This is pretty standard for a land based or casino slot machine, so you don't have to concern yourself with a hefty learning curve.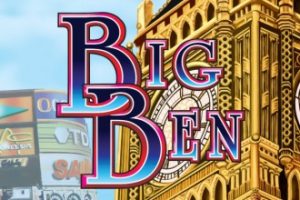 Coin values range from $.02 to $5, meaning that players of all budget levels are able to get involved. Furthermore, and unlike some games, you don't have to play all of the paylines. Instead, you can choose the number that best suits your style and risk tolerance.
If you make a maximum bet and play all 25 paylines, you have the opportunity to win a 60,000 credit jackpot. Yes, you read that right!
An Expected Theme
The name of this slot machine says it all in regards to the theme. It's based on the famous clock tower that attracts millions of visitors every year.
The graphics and audio perfectly match the theme, making you feel like you are standing on the ground and looking up at the giant clock itself.
Things only get better when you make your way to the reel symbols, which include but are not limited to the Big Ben Clock tower, Old Tavern, and buses. Along with this, and sticking with the typical Aristocrat approach, the reels are filled out with playing card symbols ranging from nine through ace.
Special Features and Bonuses
Before we get to the bonuses, let's talk about a couple extra features that add both convenience and excitement.
The Auto Play feature gives you the opportunity to set the machine to make a predetermined number of bets. With this in place, you can play anywhere from five to 500 spins without touching the machine.
The Gamble feature is every bit as intriguing, but it's only offered to players once they secure a winning combo on the reels. At that point, if you decide to use the Gamble feature, you're prompted to choose a color or suit.
If you select the right color, your win is automatically doubled. If you select the right suit, your win is quadrupled. Of course, if you choose wrong, you lose everything. Yes, this is a big risk, but at the same time it can pay off with a little bit of luck.
Now, let's move onto the bonus features. It may not be the only reason why Big Ben slots have become so popular, but it doesn't hurt.
The Big Ben symbol is used to activate multipliers during base gameplay. When you receive two, three, four, or five of these on the reels, your wager is immediately multiplied. Here's how:
Two Big Ben symbols: 2x multiplier
Three Big Ben symbols: 5x multiplier
Four Big Ben symbols: 25x multiplier
Five Big Ben symbols: 1,000x multiplier
Just as exciting, when you land three or more Big Ben symbols you will receive either 10, 15, or 20 free spins.
Every free spin is exciting, and not just because you're betting with house money. Any win during this round is doubled, giving you the opportunity to quickly add to your bankroll.
Big Ben Facts
When a slot machine is based on a historic landmark or famous person, we always enjoy sharing more information on the topic at hand. Here are some facts about Big Ben:
The official name of the clock tower is the Elizabeth Tower.
Construction of the tower was completed in
There are more than 300 pieces of opal glass in the clock dials.
A major renovation of the tower will begin in 2017.
The tower stands 316 feet high.
If these facts and figures get you excited, it may be time to visit Big Ben in person. And while you're there, don't hesitate to visit some of the high class casinos in and around the city.
Our Big Ben Slot Machine Review
It's our hopes that you now have enough information to play this game with confidence.
Remember, Big Ben slots can be played at land based casinos as well as online establishments. If you decide to play online, you have the opportunity to do so for free or by wagering real money.
We could go on and on about the many high level features of this game, but you probably understand the point by now. That said, let us leave you with our three favorite features:
The Big Ben theme is 100% unique.
This slot game provides more bonus features than most (including multipliers and free spins).
There is a top jackpot of 60,000 credits.
If all of these features excite you, take the time to play Big Ben slots online or at a local casino.