Imagine you're a bird, flying high through the sky without a care in the world. When you sit down to play a Bird of Pay slot machine, this is exactly how you'll feel. There won't be anything on your mind except having a good time and winning a lot of money.
This video slot game developed by Aristocrat has a unique theme, graphics that excite, and audio that soothes. When you combine these things with many ways to win and plenty of extras, you have a game that will continue to attract players for years to come.
An Overview of How to Play
With 5-reels and 25-paylines, playing Birds of Pay slots is a simple and straightforward experience.
Getting started is as easy as choosing your wager and number of paylines, spinning the reels, and waiting for them to stop. If you collect the right combination of symbols, you'll receive a reward.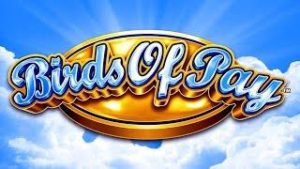 How much you win depends on two factors:
The size of your initial wager.
The combination of reel symbols.
Tip: the more money you wager the more money you can win. This doesn't mean you should bet more than you can afford, but don't skimp. Taking a risk could payoff in a big way.
Using the autospin feature allows you to speed up the game, with the reels spinning automatically based on your selected wager.
Big Money Awaits
There's no way of knowing if you'll win meaningful money playing Birds of Pay, but the potential is always there.
Since your winnings depend largely on the reel symbol combination, you need to become familiar with these.
Low value symbols include playing cards ranging from nine through ace. Although you won't win a lot of money with these, picking up a few dollars here and there will allow you to stay in the game longer.
The other symbols, those that are based on the theme of the game, display a variety of animals. From a raccoon to a fox, from a deer to a beaver, all of these symbols give you the chance to win big.
Wild and Scatter Symbols
Birds of Pay slot machines have a lot to offer players in base gameplay. But when you consider the added features, such as wild and scatter symbols, you find that there is more action to be had.
Here's what you need to know:
The eagle symbol acts as the wild.
The nest symbol acts as the scatter.
Let's start by taking a closer look at the wild symbol. With the ability to replace any other on the reels, one or more of these goes a long way in helping you boost your winnings.
The nest symbol packs a punch of its own, with three or more of these landing you in the free spin bonus.
As the reels spin for free, keep an eye on the sky. It's not uncommon for an eagle to fly over the game, dropping wild symbols to increase your odds of success.
A Birds of Pay Slot Machine Experience
Everybody has a different experience when they spin the reels. Some people win a lot of money. Some people lose more than they wager. And of course, there are those who always seem to break even.
You'll never know how much you can win until you give this game a try, but here's a video of a player who cashed in big time on a $1.20 wager.
When everything was said and done, this lucky player was the winner of 26,550 credits. It may not be the biggest casino jackpot, but winning this much money is sure to turn the game into one of your favorites.
The SlotsJack Review
The SlotsJack team enjoys most Aristocrat slot machines, as these always seem to combine a high quality playing experience with the opportunity to win a nice sum of money.
Birds of Pay is no exception, as this game is on par with other player favorites such as Heart of Vegas.
By now, you know that we're a fan. However, we'll leave you with three of the best reasons to play:
An enjoyable theme complete with advanced graphics and audio for an appealing experience.
The use of scatter and wild reel symbols to provide more action and a greater chance of winning.
A free spin bonus round with high payouts.
Are these reasons enough for you to play Birds of Pay slots? Maybe yes, maybe no. But as noted above, you can't fully appreciate the machine until you give it a try.
If you decide that now's the time to play, do your best to land in the free spin bonus game. Along with this, don't be afraid to wager a bit more money, as it gives you the chance to win the largest payouts. Good luck and let us know how things go!