It's amazing that NetEnt continues to develop truly unique online video slot machines. Boom Brothers slots, just the same as Bollywood Story, is another example of this.
Imagine a game in which three dwarves are obsessed with everything associated with mining and destruction. The thought alone should be intriguing enough for you learn more about Boom Brothers.
While the theme itself is enough to garner interest from a large audience of players, the graphics, animation, and audio also play a big part in its success. Of course, you wouldn't expect anything less from NetEnt.
When you combine the theme and appearance with a variety of bonus features, you end up with a machine that is one of a kind.
Playing the Boom Brothers Slot Machine
With a 5-reel, 20-payline configuration, NetEnt has done its part in making the Boom Brothers video slot easy to play and understand. This is the same layout that many online machines use, which allows bettors of all experience levels to sit down and get involved.
In addition to the 20 paylines, there are five distinct bet levels. With coin values that range from $.01 to $1, you find yourself in position to make a variety of wagers. Penny players enjoy the game just as much as high rollers.
Note: with a top jackpot of 112,500 coins, there's nothing "cheap" about this game. It's got enough high payouts that you'll always be excited about playing.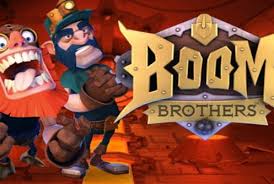 For those who aren't concerned about winning real money, free Boom Brothers slots is the perfect alternative. With no real money required, with no download necessary, you can spin the reels for free and focus solely on having an enjoyable experience.
Here's another thing to think about: the game is compatible with the Linux, Mac, and Windows operating systems. So, if you have a desktop or laptop computer, it goes without saying that you can play.
Also, if you're on the go or prefer a mobile experience, you're in good shape. You can play via your tablet or smartphone, all without sacrificing anything in terms of features or configuration.
Features and Bonus
Every reel symbol is associated with the mining industry, including items such as: miner's helmet, bucket, hammer and axe, and a lantern.
Note: the highest paying symbols are the actual dwarves. The white dwarf has the highest value, followed by the orange, green, and brown. Regardless of which one, you want to come across one or more of these symbols as often as possible.
One area in which the Boom Brothers slot machine comes out on top is the number of extra features. When compared to other games, even those by NetEnt, this one has a higher level of features, which helps attract and retain players.
The Second Chance feature is a player favorite, with a dwarf appearing on the screen and activating the reels once again. This gives you an additional chance of winning.
There is also a Free Spins game, with this activated when you collect three or more free spin symbols. From there, you're awarded a random number of free spins that range from 8 to 50.
Note: any payout during a free spin game is multiplied by 3x.
The Railtrack bonus is every bit as exciting as it sounds. If you land three or more Railtrack symbols on an active payline, you're hurried away to this bonus feature.
During the first stage of the bonus, you assist the dwarf by laying tracks that he can roll across. As you make your way to the second stage, you'll watch three different dwarves make their way down the tracks. Finally, you'll choose a cart to find out what you've won.
Boom Brothers Slot Review
There's no reason to come across this game at an online casino and pass it by. Sure, there are other machines that offer just as much excitement, but this one has almost everything you could want.
Our review does a good job explaining the basics, such as the unique theme and the many features and bonus round. However, we can only say so much about the actual playing experience. You have to spin the reels for yourself to get a better idea of how the game makes you feel.
Here are three reasons why we consider this one of the best games from NetEnt:
The Second Chance feature and Railtrack bonus provide excitement and additional ways to boost your winnings.
You have the opportunity to play with real money and for free.
The theme is unlike anything you've ever come across.
If these things excite you, it's time to find an online casino that provides the opportunity to play the Boom Brothers slot machine.