Britney Spears, also known as The Princess of Pop, is one of the top performers of all time. She can sing, she can dance, and she can act. When you put it altogether, you have a mega superstar who has been captivating audiences for many years.
Perhaps, this is why Aristocrat decided to develop a Britney Spears slot machine. Despite the fact that this game has only been in land based casinos since 2015, it is already a player favorite.
It doesn't matter if you're young or old. It doesn't matter if you're male or female. Furthermore, your budget won't really come into play. As long as you enjoy slots and have a little bit of money, you can sit down and spin the reels.
Killer Looks
What else would you expect from a Britney Spears slot game? She's known as one of the most beautiful people in the world, so it's only natural that her slot machine follows suit.
From the moment you lay eyes on this game, you'll want to sit down and experience the thrills firsthand. It truly is that attractive.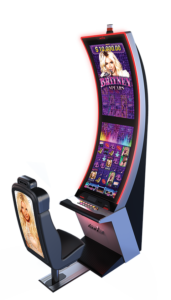 From the curved HD display to the over the top graphics and audio, this game doesn't lack anything in terms of entertainment.
When it comes to the reel symbols, there are images of Spears all over the place. Others include icons associated with her appearance and act, such as red lips, boots, and of course, a microphone.
Note: thanks to the use of the ARC Double cabinet and iChair, you don't just play this game. You immerse yourself in it from the moment you sit down.
Even if you aren't winning, you know that your luck could turn at any time. Along with this, as the reels spin, you can still enjoy yourself thanks to many of Britney's songs playing in the background. These include favorites such as Baby One More Time, Crazy, and Oops!… I Did It Again.
Things to Know About Britney Spears Slots
We'll be the first to say that writing a review of Britney Spears slots is easier said than done. And here's why: it's one of those casino games that you can't say enough about. For this reason, you really have to sit down and play to understand how great it is.
Of course, we aren't going to leave you hanging. Here are some things to know:
There are two base games.
There are four distinct bonus features.
It features a $10,000 single site progressive jackpot.
While all of these things are exciting, we have to say that the progressive jackpot is what really gets us talking. It's not easy to win, but a reset at $10,000 ensures that there's always a huge jackpot to chase after.
For players seeking a visual look into the inner workings of the game, check out this promo video shared by Aristocrat.
Cool Britney Facts
Here are some facts that will help you better understand why and how Britney Spears has become such a big hit:
She first took to the stage at the age of five.
In 1992, she made her first appearance on The Mickey Mouse Club.
Her first album was released on January 12, 1999.
She has starred in a variety of movies, including Crossroads.
She has won almost every music award imaginable, including but not limited to: American Music Awards Favorite New Pop/Rock Artist, Billboard Music Awards Female Artist of The Year, Grammy Awards Best Dance Recording, and MTV Video Music Awards Video of the Year.
If you find yourself in Las Vegas to play the slot machines, you may want to stop by the Planet Hollywood Las Vegas Resort and Casino. It's here that Britney performs regularly in a state of the art 4,500-seat theater.
SlotsJack Says 'Play it Again'
As you know, some casino games offer nothing more than an average experience. This isn't the case with a Britney Spears slot machine.
Whether or not it's the best game ever developed by Aristocrat is up for debate. After all, the company is responsible for many other player favorites, such as the Big Ben slot game. Even so, some players will never change their mind when it comes to the opinion of this machine.
If you like Britney Spears, if you enjoy slot games, and if you want to chase a progressive jackpot through a unique experience, this is the place to start.