Although Halloween only comes around once a year, you can play a Bubble Bubble slot machine any time you get the itch.
While the name doesn't make much sense, this game from Realtime Gaming continues to impress thanks to a unique theme, high paying features, and plenty of surprises around every corner.
When compared to other games from the company, this one isn't much different. It offers exactly what you would expect, as well as a bit of extra excitement thanks to the inclusion of various bonus games.
Nothing Scary About this Game
Despite the theme, which would make you believe the machine is scary, nothing could be further from the truth.
With Bubble Bubble slots, you'll step into a haunted house that is anything but intimidating. Instead, thanks to the 50 paylines and 5×3 reel configuration, everything comes together the way you would expect. There are no surprises here.
As you get started, you only have to answer one key question: how much money do you want to wager on each payline?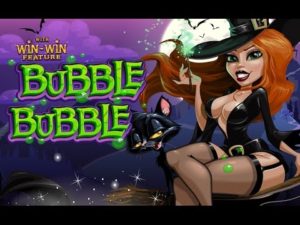 On the low end, you can bet a minimum of 0.5 coins. However, if you want to add some excitement to the experience, push things to the limit with a wager of $12.50 per spin.
At SlotsJack, we enjoy games that offer variety in regards to how much you can wager. That's exactly what you get here.
Bonus Games
If you're going to play any RTG slot machine, it's important that you're on board with the idea that you'll spend a lot of time in base gameplay. Even though this is the case, bonus features come into play every now and again.
Here are some of the more intriguing bonus features:
Bewitched feature: seven free spins with Winnie the Witch on reel three to increase your odds of winning.
Great Ghost feature: 20 free games in addition to the inclusion of nine wild ghosts.
Wild Witches feature: nine free games, along with the potential for all of the symbols on the first two reels to turn wild.
If that's not enough to excite you, here's something to think about: five cauldron symbols (these are the scatters) pay out 33x your initial wager.
Play for Free for Fun
With so many ways to win big money, it goes without saying that many players avoid the free version of Bubble Bubble.
However, there are times when playing for fun makes the most sense. Here are some times when you should consider this:
If you don't live in a region in which you're legally permitted to play slots with real money.
If you're more worried about having a good time, not winning cold hard cash.
If you want to learn more about Bubble Bubble before wagering your own money.
Never forget this: playing an online slot machine should be fun. Sometimes, you don't need to bet real money to have a good time.
Final Word
This game stacks up nicely against others from RTG, including the likes of player favorites such as Aztec's Treasure.
In addition to a beautifully crafted theme, the Bubble Bubble slot machine is home to many bonus games that add another layer of intrigue.
Throw in the ability to play for free, as well as access to both iOS and Android versions, and you have a game that will continue to attract players from all over the world (even when it's not Halloween season).