Is it possible for a slot machine developer to take one of the best games of all time and make it even better?
This may sound like a tall task, but it's exactly what Aristocrat decided to take on with its Buffalo Grand slot machine.
Similar in many ways to the original Buffalo slot, this game has quickly caught on amongst casino players around the world.
Over the years, both in slot machines and movies, we've come to find that sequels often fall short. Fortunately for Aristocrat and gamers alike, this isn't the case here.
A Big Time Game
Everything about this machine is big time. From the configuration to the cabinet, from the payouts to the bonus action, there's not a single area in which players are disappointed.
When compared to the original game, the machine itself is bigger than before. Along with this, the graphics and audio have been taken to the next level.
Tip: if you want to get a true feel for how the two games differ (and are the same), play them back-to-back. Since they're both so popular, you shouldn't have a hard time finding them in most land based casinos.
If you want to learn more about this game, including what the reels look like and how to win the jackpot, here's the official launch video.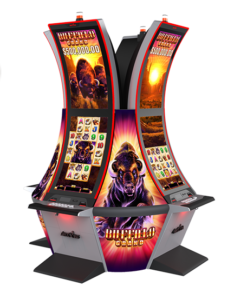 Here are some top features of the game:
The same cabinet as the famous Britney Spears slot game.
Betting range that starts at 75 credits and reaches as high as 375 credits.
Five level progressive jackpot.
As you play, the reel graphics will captivate your mind. In addition to buffalo, other symbols include but are not limited to an American eagle, mountain lion, and wolves.
Bonus Power
When playing a Buffalo Grand slot machine in base form, you'll always enjoy the action and the way you feel that you're inside the game. Adding to this, there is bonus action unlike anything you've ever experienced.
The free spin game comes into play when you collect three or more scatter (gold coin) symbols anywhere on the reels. This awards 8, 15, or 20 free spins, allowing you to play with house money for a good period of time.
The jackpot wheel round is every bit as exciting, as this begins with a high quality video that takes you into the wilderness. From there, you'll win one of two things: free spins or a progressive jackpot.
Players are Living Large with Buffalo Grand Slots
When you sit down to play a slot machine, do you ever wonder if you really have a chance of winning a lot of money?
If so, you'll enjoy this story about Buffalo Grand slots. It discuses many details of the game, including how four separate players won the grand progressive jackpot over the course of 14 days. In the end, this equaled a total payout of $2.64 million.
The first player got things started by winning more than $500,000 at Inn of the Mountain Gods Resort and Casino. From there, three others won, including the biggest jackpot of roughly $796,000 at The Palazzo Las Vegas.
Aristocrat wants to offer more than exciting themes. The company strives to provide players an enjoyable atmosphere in which they can win a lot of money.
If you want to live as large as a Buffalo, this may be the game for you. Many others have tried their luck and walked away with hundreds of thousands of dollars, and you could be next.
Our Review
When you read this Buffalo Grand slot machine review, it's hard to contain your excitement.
The game is every bit as popular as the original, due in large part to the advanced cabinet, top of the line graphics, and potential to win a massive progressive jackpot.
Although you can't yet play this game for free, you probably don't want to any way. After all, when you play with real money, you have the chance to win a jackpot that will change your life forever.