When Aristocrat finds something good, the company continues to push the limit for as long as possible.
This is apparent with its "buffalo themed" games, all of which have a large following and are available in brick and mortar casinos throughout the world.
Take for example Buffalo Grand slots, a game with modern features and a progressive jackpot that regularly reaches $700,000.
In this review, we'll examine another one of these games: Buffalo Moon slots.
With a unique name and interesting background, this video slot machine has carved out a special niche on the casino floor.
The First Step
The first step in playing a Buffalo Moon slot machine is finding one of these games at a brick and mortar casino. Since it's so popular, you won't have any trouble.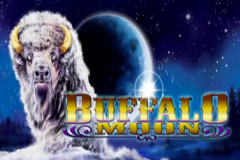 From there, you need to sit down and get your bearings. The background is nothing more than a sky, which gives this machine a unique look and feel.
With the reels set on the sky, it's easy to see exactly what you're doing.
Unlike other Aristocrat games, there's not much in terms of graphics and animation. This may disappoint some, but it's actually a benefit if you enjoy a simplified and straightforward experience.
Spin the Reels
Once you're familiar with the setup, it's time to spin the reels and see what happens. Here are a few details that will keep you on track:
There are five reels.
There are 4,096 ways to win, thanks to the Xtra Reel Power feature.
The command bar acts as your dashboard, allowing you to customize your wager.
Even more so than other games, remember this: the more money you bet the bigger the payout potential. With more than 4,000 ways to win, you don't want to sell yourself short.
Let the Reel Symbols Guide You
Playing a Buffalo Moon slot means familiarizing yourself with two paytables.
With one, you'll find a break down of winning combinations associated with playing card symbols. From nine through ace, these symbols payout the smallest rewards.
The other paytable is the one that adds the excitement. This is where you'll find the unique symbols and their payouts. Some of the highest paying include a mountain lion, grizzly bear, and wolf.
Note: five Buffalo symbols pay the largest reward of 1,000x your initial wager.
More than Base Gameplay
Above, we talked about the two paytables and how to win the jackpot. Now, we're going to move past base gameplay and discuss something else: bonus features.
The moon symbol is wild, meaning that it can appear on reels two, three, and four. When you collect one of these, it can replace any other symbol with the idea of forming a winning combination.
The other special symbol is the golden coin, as it acts as the scatter. It doesn't matter where you land these on the reels, it will lead to a nice payout. Furthermore, three or more of these is your key to the bonus round.
You have the ability to personalize the bonus game by choosing your number of free spins and which multiplier you want to activate. If you want a higher multiplier, you'll end up with fewer free spins. Conversely, if you want more free spins, you'll have to opt for a lower multiplier.
Buffalo Moon Slot Machine Tips
As one of the simpler games in the Aristocrat lineup, you don't need much help playing Buffalo Moon. Instead, once you sit down and spin the reels a few times, everything will come together right in front of you.
Of course, this review is all about giving you the information you need to make informed decisions. Here are some tips to keep in mind:
Experiment with different bonus round customizations, as this allows you to find what works best for you.
Don't hesitate to make a max bet, as doing so gives you the chance to multiply your initial wager by 1,000x.
Consider using the autospin feature, as this speeds up the game and allows you to play in a hands free environment.
If you're thinking about playing Buffalo Moon, this video of a bonus round player may be the push you need. By the time all 20 free spins were used, this lucky casino-goer had won 37,375 credits.
SlotsJack Loves a Good Buffalo Game
It's easy to believe that all buffalo themed slot machines are the same, but you won't realize that this isn't true until you sit down and play each one.
If you're looking for a good time, a basic layout, and a game that gives you 4,096 ways to win, Buffalo Moon is the right one for you.
At SlotsJack, we enjoy this game for a number of reasons, such as:
The ability to customize the bonus round.
The opportunity to win a big jackpot.
The use of the Xtra Reel Power feature.
You can play Buffalo Moon slots in land based casinos, including many of the most popular establishments in the United States.