An interesting name and theme has made Bunny's Rabbits slots one of the most intriguing games in the Aristocrat library.
In the same form as many other machines by this company, including Buffalo Moon, the easy to play configuration is perfect for players of all skill levels.
Understanding How to Play
The nice thing about slot machines is that 99 percent of them are simple to understand. Bunny's Rabbits definitely fits this mold, despite the fact that it has some unique features that allow it to standout on the casino floor.
Take for example the 4-reel, 10-payline configuration. This is far form standard, especially in Aristocrat's world, but it works well for this game and the players who have come to love it.
The four row, four column layout is a different spin on the classic slot game, as this works out to 16 total positions. At first, you may face a slight learning curve. However, once you spin the reels a few times, everything will make sense.
Reel symbols are varied, including but not limited to a pink teapot, green dragon, red rose, and orange cat. In other words, this game is all over the place.
Speaking of reel symbols, two are more important than the rest:
The red rose is the scatter symbol.
The wild rabbit is the wild symbol.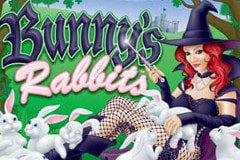 Adding to this, there are a few other details worth mentioning:
The minimum bet is set at 0.1 credits.
The maximum bet is set at 32.5 credits.
The payout percentage is set at 94.85 percent.
As you can see, playing a Bunny's Rabbits slot machine is not for high rollers. Sure, you can win good money, but due to the low maximum wager, you won't be chasing after massive jackpots.
The Power of the Scatter Symbol
As you know by now, Aristocrat has a thing for scatter symbols. With Bunny's Rabbits, this is much the same as other games. If you collect four scatter symbols you are awarded five free spins, but don't stop there:
Five scatters award 10 free spins.
Six scatters award 15 free spins.
Seven scatters award 20 free spins.
Tip: with a re-trigger feature, watch for more scatters during the free spin game.
Top Reasons to Play
The theme and unique configuration should be reason enough to give this game a second look. After all, there are times when you want to take on a game that's unlike any other.
There are a few other reasons to consider it, including:
The availability of the Aristocrat gamble feature. With this, you can gamble any payout for the chance to double or quadruple your winnings on the spot.
During the free spin round, the wild witch may get loose and turn multiple symbols into bonuses.
You don't have to wager a lot of money for the chance to win a nice payout.
If you're more of the visual type, you'll want to watch this video of a Bunny's Rabbits bonus round. It shows a player winning 7,840 credits during the free spin bonus game.
You won't always have this much success, but this video is proof that good things can happen when you spin the reels for free.
Find a Bunny's Rabbits Slot Machine
Playing this game means visiting a land based casino. For instance, Mohegan Sun in Uncasville, Connecticut is one of the top establishments for this machine (among many others).
At this time, players don't have the option to get involved online. This could change in the future, but for the time being you'll need to visit a casino in person if you want to spin the reels.
We're confident that you'll be able to find this machine if you want to play. We're also confident that this review will provide you with the guidance you need.
At SlotsJack, we're big time fans of games that are different than the rest. This is exactly what you get with Bunny's Rabbits.
The name of the game is "off the wall," the layout is unexpected, and the finer details are out of the norm. Add this to an exciting bonus round and plenty of betting options, and you have something you can sink your teeth into.