With a name like "Can Can" you never have to wonder if this slot machine game will keep you on the edge of your seat.
Developed by Aristocrat and sharing features with many of its other games, such as Sky Rider, you can be rest assured that the path to playing is fast and efficient. It's as simple as inserting money, making your wager, and spinning the reels.
Officially known as Can Can de Paris, this game attracts players with its fabulous theme, quality audio and graphics, various betting options, and the opportunity to win big money.
As a 100-payline 5×5 reel slot machine, the experience is anything but ordinary. However, just as with all Aristocrat games, there's not much of a learning curve – and that's exactly what most players are looking for.
How to Play and Win at Can Can Slots
There's no way to guarantee success when playing any slot machine, but collecting knowledge in regards to the game is a great place to start.
We already discussed the 100-payline 5×5 reel configuration, but there's something else you need to know: the number of paylines can expand to 500 in some bonus games, which increases both your chance of winning and winning a large sum of money.
There is a minimum wager of 60 credits, typically with a denomination of one cent. On the high end, there is a maximum wager of 300 credits. This gives all types of players the opportunity to get involved.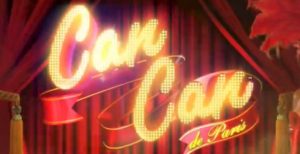 As you spin the reels during base gameplay, you may begin to have so much fun that you forget about all the extras. But this will soon change as a bonus game enters the equation.
For example, the Power Reels feature is one to write home about. This randomly awarded bonus adds more paylines to the game, providing for enhanced action and bigger payouts.
And who could forget about the wheel bonus? During this game you can win one of many progressive jackpots, additional credits, and free games.
Here are several other details worth noting:
Linked progressive jackpots for huge payouts.
Use of the world famous Verve HD cabinet for an engaging experience.
An over the top performance, complete with dancing girls, every time the reels spin.
There are other games with as many features as a Can Can slot machine, but you'll be hard pressed to find one that combines this with so much action.
Should You Play?
Deciding whether or not you should play a game is never easy. If you're feeling lucky, if you're feeling like playing a slot game with top of the line features and non-stop action, you'll probably have a good time spinning the reels.
It's a perfect game for these types of players:
Those who are interested in a progressive slot machine without a high minimum bet.
Those who enjoy games with advanced bonus features.
Those who never want to get bored, even if they aren't winning.
Does this sound like you? If so, you should at least spin the reels a few times. This is the only way to truly see what the game is all about.
A Paris Theme
Known as The City of Light, Paris is one of the top tourist destinations in the world. Here are a few of the top attractions in the city:
Eiffel Tower
Notre Dame Cathedral
Arc de Triomphe
Musee d'Orsay
Le Marais
As you play this game, you may come across a few symbols and graphics that remind you of the city.
Conclusion
There may not be an online version of this game just yet, but there are rumblings that it could be coming soon. Until then, you'll have to find Can Can slots in land based casinos around the world.
It's a popular game in the United States, as casinos often pair it with other machines by Aristocrat.
If you want to see how the action unfolds, here's a video of a player winning more than 14,000 credits during a bonus game.
At SlotsJack, we like games with a unique theme, bonus features, and progressive jackpots. And that's exactly what you get with Can Can de Paris!