Have you ever dreamed of playing the bad guy in a bank robbery film? If so, you don't have to break the law in order to live out this experience. Instead, all you need to do is fine the Cash Bandits slot machine at an online casino.
Developed by Realtime Gaming, you can collect payouts for taking on a variety of risky activities. From robbing banks to running from the police, everything you do in this game is full of excitement.
In addition to base gameplay, which is full of fast paced action and top notch graphics, you can also access the Wild Safes and Vault feature, both of which give you the opportunity to win free spins and activate multipliers.
An Affordable Experience
RTG is known for developing slot machines that suit the budget of most players. This one is no different, thanks to a starting bet of $.25. With 25 paylines, you can wager anywhere from a single quarter to $6.25 per spin.
It's not a high roller game by any stretch of the imagination, but you do have the opportunity to bet a reasonable amount of money that can turn you into a big winner.
If you're not interested in playing with real money, free Cash Bandits slots deserve your attention.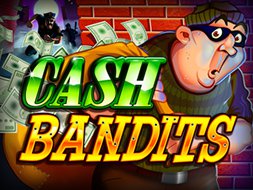 With this approach, you don't have to wager any money in order to play. Instead, the experience is free from beginning to end. The only thing you're concerned with is playing for fun.
How to Play a Cash Bandits Slot Machine
As noted above, the game consists of 25 paylines. When combined with five reels, this is the same general configuration that many RTG machines use.
Once you make your bet and spin the reels, all you have to do is sit back and wait to see if you're a winner. While there's always something exciting on the screen, there's no confusion in regards to whether you've won or lost.
In addition to base gameplay, the use of special symbols add to the enjoyment of playing. For example, the Cops and Robbers symbol is the scatter. There are two reasons why this is the most powerful symbol in the game:
Forming a winning combination with one of these can award a payout of up to 200x your initial wager.
Three or more scatter symbols on the screen will activate the Vault feature.
As you enter the Vault feature, you'll be glad to know that you have five free spins with 2x awards on any wins. But there's more. You have the chance to break into the bank, with success meaning bigger prizes for you.
Solve the one digit code and you're awarded 3x payouts and five additional free spins.
Solve the two digit code and you're awarded 4x payouts and 10 additional free spins.
Solve the three digit code and you're awarded 5x payouts and 20 additional free spins.
Solve the four digit code and you're awarded 6x payouts and 50 additional free spins.
If you find your way into the Vault feature, it goes without saying that you'll forget about base gameplay for the time being. Instead, you'll hope that you stay here for as long as possible.
Make Off with the Money
When it comes to high paced, high paying online slot machines, there aren't many that can outdo Cash Bandits.
It's more exciting than other RTG games, such as a Caesar's Empire slot machine, thanks to the action packed theme, high paying scatter feature, and Vault bonus.
At SlotsJack, we've long been fans of Realtime Gaming and its many games. This one isn't the newest or most advanced, but players from all over the world consider it a favorite.