In the world of Aristocrat Technologies, innovation is the name of the game.
Chicken 2 takes the word innovation to the next level, thanks to its exciting theme with a unique approach to the traditional slot machine.
With a vibrant, playful, and somewhat wacky theme, Aristocrat has never had to worry about attracting players to this game. And once you sit down, the company doesn't have to worry about you being scared away.
The Unique Approach
If you're thinking about comparing Chicken 2 slots to more traditional games, such as Buffalo Moon, you'll want to reconsider. Here's why: you place your wager on the reels, not the paylines.
This is different than most other slot machines, but it's something you'll catch onto in no time at all. Not only does this provide a unique experience, but it also does two other things:
Makes the game more affordable.
Gives you the chance to pull in massive wins.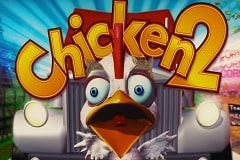 We know what you're thinking at this point: you don't have time to learn how to play a new style of game. Don't let this hold you back, as it's not nearly as confusing as it sounds.
Chicken 2 Slot Machine Bonus Action
It can be difficult to active the bonus feature, but when you do you're in for the time of your life. This takes you into a mini game that requires more input then most other bonuses.
Upon entering, you're given control of a cartoon chicken and staffed with a simple goal: take it from one side of the road to the other, all the while dodging fast moving cars.
Each time you make it to the other side of the road your payout increases. Even better, the bonus round goes on and on, until you have an unfortunate accident with a vehicle.
In our opinion, this is one of the best bonus games going today. There's nothing wrong with the same old free spin bonus, which Aristocrat uses in many machines, but there's something exciting about an experience that you can control.
The Many Reasons to Play
By now, you shouldn't be wondering why this game has become a big hit in markets around the world.
A unique take on base gameplay, in which you bet on reels not paylines, is an excellent way for Aristocrat to provide players with a special experience.
And then there's the bonus round, which happens to be one of the most exciting on the casino floor. Adding to this, with a bit of success, the mini game bonus feature can provide big payouts. Here's a video of a player winning almost $200, thanks to his skill in helping the crazy chicken cross the road.
A Review for Guidance
With each slot machine review, we do our best to provide players with the information they need to make informed playing decisions.
Our Chicken 2 review was one of the easiest to write, and here's why: there's nothing about the game that's traditional. For this reason, we're able to share a unique take that is meant to provide a high level of excitement.
This game is a great example of what a company can come up with when they are innovative and forward thinking. Although this isn't one of the newest machines in the Aristocrat library, its unconventional approach has allowed it to remain a player favorite.
We like everything about Chicken 2, from the kooky main character to the mini bonus feature and everything in between.
Final note: due to the age of the machine and intense industry competition, you won't find it in every casino. However, if you search long and hard, you'll find an establishment that has a few of these to choose from.