Realtime Gaming has had good success with holiday themed slot machines. This is particularly true of Halloween, thanks to player favorites such as Count Spectacular and Bubble Bubble.
Are you a fan of Halloween, with a particular interest in vampires? If so, you're in for the time of your life when you play this game.
With five reels and 25 paylines, the configuration of Count Spectacular slots is not much different than any other RTG machine. However, the theme, combined with semi-scary graphics, allows it to stand on its own two feet.
You Get What You Expect
When it comes to the theme, you get exactly what you expect. In addition to the Count himself, other reel symbols include a lantern, secret potion, garlic, bat, casket, and wolf among others.
It's noted above, but we'll take the time to say it again: RTG hit the nail on the head with the graphics and audio.
Perfect for All Players
Are you on a tight gaming budget? Are you in position to wager a bit more money, with the hope of hitting it big?
A Count Spectacular slot machine makes it easy to play, regardless of your bankroll. Get this: you can place a minimum wager of $.01, resulting in a total wager of $.25 if you bet on every payline.
On the high end you can bet $5 per payline, for a total wager of $125. Yes, this is a lot of money, but the potential for a higher payout exists.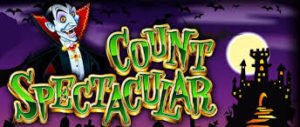 Tip: you don't have to wager the minimum or the maximum. Instead, you can find a "happy medium" to ensure that you have a good experience at a price you can afford.
The Feature List
When it comes to the history of vampires, it's not always easy to separate fact from fiction. Fortunately, there is no gray area when playing this game. Instead, it's all about the comprehensive feature list that was built to impress players.
It all starts with the wild symbol, depicted by the Count himself. This can replace any other symbol, with exception of the Castle, which acts as the scatter.
When you collect a Count symbol on any reel, it immediately expands to cover every position. Talk about a great way to immediately boost your payout.
What you're really looking for is five Count symbols on an active payline. If you collect these, you're awarded 10,000 coins.
The Free Spins feature is also a player favorite, with these coming into play when you receive expanding wilds on the first and fifth reel.
This bonus is a bit different than other games, thanks to the fact that you can select from one of two games. Your options include:
12 free spins in which every payout is multiplied by 3x.
4 re-spins during which the wild symbol is locked in on the first and fifth reel.
Both of these features are special, so there's no right or wrong choice. In a perfect world, you'd play Count Spectacular long enough to experience the thrill of both.
Three More Things to Enjoy
We've talked about the basics of the game, but there are three other points to mention:
Count Spectacular features a random progressive jackpot, much the same as other RTG games. In addition to the major jackpot, there is a smaller one (known as the minor progressive).
As a mobile friendly online slot, you can play via your smartphone or tablet.
In addition to betting real money, there is a free version of Count Spectacular slots. This is the perfect choice for people who want to play for fun.
Our Take
At SlotsJack, we're big fans of holiday themed slot machines. Count Spectacular definitely fits this mold, thanks to its creepy theme and killer sound effects.
If you're an RTG fan like us, you should check out this game in greater detail. From playing for free to chasing the progressive jackpot, everything about the experience is spooky, spectacular, and best yet, full of fun!