With its cartoonish theme, coupled with silly graphics and audio, some players feel that a Coyote Cash slot machine is too "juvenile" for their liking.
Conversely, there are many more players who will take this game over most others any day of the week.
As a 5-reel, 25-payline machine, it's no different in terms of configuration than others from Realtime Gaming, such as Count Spectacular.
Enter the Wild West
Although a coyote is the main character, in an overall sense it's the wild west theme that deserves your attention.
Some of the reel symbols worth noting include a skull, cactus, and rattlesnake. The theme could best be described as the wild west meets the desert, all with a cartoon twist. Yes, this is a bit to take in, but once you begin to play everything comes together.
The Bones of the Game
Coyote Cash is one of the top online penny slot machines. With the ability to spin the reels for a single cent, you don't need much money in order to play.
Of course, if you want to wager a penny on each payline, you can do so for a total bet of $.25.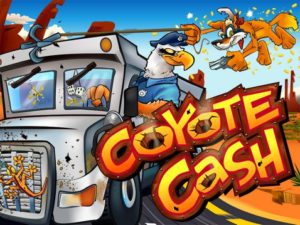 On the top end, the maximum bet per payline is $.25. When multiplied by 25 paylines, this makes for a total maximum wager of $6.25. You won't confuse this with a high roller game, but it's a solid max bet for those who want to "lay a little more on the line."
Features Make the Game
The theme makes base gameplay enjoyable, but there is more to Coyote Cash than that.
The coyote, which acts as the bonus symbol, is an added feature that improves your odds of winning. This symbol can replace any other, with the exception of the loot (scatter).
With the ability to show its face on all five reels, the coyote symbol is extremely powerful. When one or more of these symbols helps you form a winning combination, your payout is automatically doubled.
Note: it's not easy to do, but collecting five wilds on an active payline, with the maximum bet in place, awards you a 10,000x multiplier.
Free Spins
In addition to the wild, the scatter symbol does its own thing. Three or more of these on any of the reels awards 20 free spins. Also, a multiplier is triggered based on the number of scatter symbols that initiated the feature:
Three scatters – 2x multiplier
Four scatters – 3x multiplier
Five scatters – 4x multiplier
Plus, you can retrigger the free spin bonus by once again collecting three or more loot symbols.
Other Reasons to Play
What are your initial thoughts on the Coyote Cash slot machine? If you're still on the fence, here are a couple other points that can help you make up your mind:
A randomly awarded progressive jackpot, with the payout equal to what you see on the counter above the reels.
The option to play for free. This is important to those who want to play for fun, as well as players who can't wager real money online in their country.
Final Thoughts
There's no hiding from the fact that Coyote Cash is far from the most advanced RTG game. And yes, it does come across as a bit childish at times.
Even with these drawbacks, there are enough reasons to make it a player favorite.
There is a free spin bonus feature, a high paying progressive jackpot, and the ability to play for free.
When you combine all this with the option to play via a mobile device, such as an iPad, you have a game that continues to attract players from all over the world. You don't have to be a fan of the wild west or coyotes to fall in love with this machine!