When you play a Crazy Cherry slot machine by Video Gaming Technologies (VGT), your head will be spinning with excitement from start to finish.
With an old school theme and a three reel mechanical setup, this game will take you back to the way things used to be – and that's just what some players are looking for.
As you begin to play this game, you'll see that many of the features are similar to other machines by VGT, such as Star Spangled Sevens. Even so, there is a unique theme and experience that always reminds you of the game you are playing.
Things to Know
There is a lot to like about Crazy Cherry slots, starting with the 3-reel, 1-payline approach. This isn't what you'll find with most modern games, but it's something that works well for VGT and its players.
You can place wagers in a variety of denominations, including: $.25, $1, $2, $3, and $5. As a three coin game, you can bet anywhere from a quarter per spin all the way up to $15.
As the theme suggests, many of the reels are filled with cherries. However, the pay table at the top of the machine makes it clear as to how you win.
Speaking of winning, the maximum jackpot is 10,000 credits, which is more than enough to get most players excited.
Special Features of Crazy Cherry Slots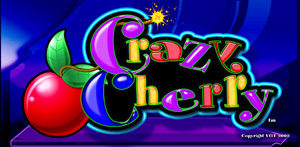 Let's face it: some games can get a bit boring in base gameplay. This isn't necessarily true with Crazy Cherry, but it's only natural to want a little bit of spice from time to time.
With this game, there are a few special features that will keep you engaged:
Red Screen Free-Spin bonus.
Bonus Blast games, including Lucky Pluck and Pick a Safe among five others.
Some casinos customize Crazy Cherry slot machines with a fourth bonus reel, adding more excitement and greater winning potential.
These features prove that this game is way more advanced than it appears on the surface.
What is Crazy Cherry X's?
If the original Crazy Cherry slot game isn't enough for you, it's time to give this sequel a closer look. Described by VGT as a longtime favorite, it is similar to the original game, with one major change: a multiplier.
Thanks to the addition of a multiplier, any win can quickly turn into something much bigger. Add this to the Cherry Bomb Bonus and a top award of 7,500 credits, and you have a game with everything most players are looking for.
Top Reasons to Play
Choosing a Crazy Cherry slot machine among so many other choices is never a simple task, but these benefits of playing may be enough to lead you towards this game:
Choose between the original game and Crazy Cherry X's.
Betting denomination ranging from $.25 to $5.
Customized with many bonus games for enhanced fun and increased winnings.
If all of this has you excited about Crazy Cherry slots, find this game at a local casino, sit down, and spin the reels a few times. Stick around long enough and you'll probably find yourself spinning the reels for free and enjoying yourself in various bonus games.