As you probably know, Las Vegas is the number one gambling destination in the world. Known as Sin City and the Entertainment Capital of the World, most people who visit have the time of their life.
Thanks to all the excitement of the strip, it was only natural for Realtime Gaming (RTG) to develop a game based on this theme. And that's where the Crazy Vegas slot machine comes into play.
With a theme similar to Heart of Vegas, an Aristocrat player favorite, you may feel as if you've played this game in the past. However, once you spin the reels, you'll realize that the experience is 100 percent unique.
Every symbol relates to the Las Vegas scene, ranging from dice to roulette wheels and from showgirls to Elvis.
Let's put it this way: if you want to visit this city without actually leaving home, you'll enjoy this game. It gives you the opportunity to experience the Vegas way of living, all via the power of your computer.
Getting Started
Crazy Vegas can be played for fun online, meaning that you don't have to wager any money to spin the reels. Instead, you're playing for nothing more than the experience.
Those who don't want to play for free can always make a real money bet. Here are a few things to know:
You will choose to play anywhere from one to 25 paylines per spin.
You will choose a payline wager ranging from $.01 to $.25.
The minimum wager is a single penny (making it an affordable online slot machine).
The maximum wager is $6.25 per spin.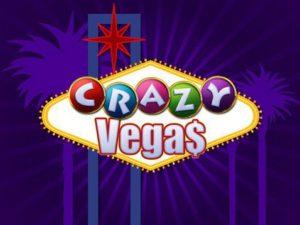 Crazy Vegas is not a high roller game, but it still manages to win over players thanks to the variety of betting options.
Winning at Crazy Vegas Online Slots
By now, two things are clear: the theme is one of the most exciting you'll ever come across, and the game can be played for a small minimum bet.
But there's something else to think about: winning. Nobody visits Las Vegas with the idea that they'll lose, so you don't want to take this approach when playing via the internet.
There are several ways to win a handsome jackpot. For example, you're awarded 150x your initial wager if you receive five Elvis symbols on the same payline.
Note: acting as the scatter, the Crazy Vegas symbol is one to watch for.
What about the free spin chips symbol? When you simultaneously collect these on reels two, three, and four, you're taken away to the free spin bonus game.
The first two free chips show how many free spins you're granted. The third one reveals your multiplier. While some experiences are better than others, you can always expect a generous number of spins as well as a multiplier that makes the game worth your time.
A progressive jackpot is also in play, with this being randomly awarded after any spin (even if you didn't bet the maximum). This isn't the largest progressive out there, but don't be surprised if it pushes past $5,000 while you're playing.
Our Honest Review
At this point, we've talked about the features and benefits of the game. At SlotsJack, we enjoy the theme, the free spin bonus, and the ability to win a progressive jackpot.
Conversely, we're not huge fans of the graphics and animation, as it's pedestrian at best.
Even though it has some shortcomings, these are typically outweighed by the benefits. Crazy Vegas slots aren't all that different than other games by RTG, but the theme alone is enough to engage players.