With hundreds upon hundreds of slot machines to choose from, it's only natural to overlook some of the best. However, you don't want to continue to do so when it comes to the Creature from the Black Lagoon slot game.
NetEnt developed this game based on the famous black-and-white monster horror film. Although the film was released in 1954, well before the internet was all the rage, the company did a great job bringing its theme and characters to life.
There is no denying the fact that monster themed video slot machines have "been done" in the past. Even so, don't expect this one to be the same. Instead, you will find yourself deep in a game full of mystery and intrigue. If you aren't careful, the creature itself could jump off the screen and scare you back to reality.
As you would expect, NetEnt has nothing but good things to say about this online video slot. While you can take the company's word for it, you're better off sitting down and spinning the reels for yourself. This is always the best way to understand what a game has to offer.
Things to Know
There are a few things you need to know before you play Creature from the Black Lagoon slots online. To start, and as noted above, this is a video based slot. This means that the graphics, animation, and audio are second to none.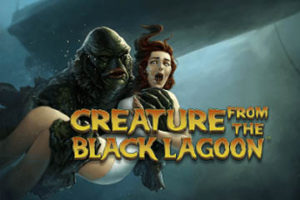 Moving on, there is a 5-reel, 20-payline configuration with 3-rows. This is similar to Cosmic Fortune, a game that has the same number of reels and rows, but five fewer paylines.
Another big benefit of the game is the free play option. With this, NetEnt powered casinos don't require you to deposit real money in order to play. Instead, you can spin the reels for free. This is the preferred method of players who:
Don't care about winning real money, but only want to have a good time.
Aren't permitted to play the "real thing" in their part of the world.
You can also play the Creature from the Black Lagoon slot machine from your mobile device. For example, you can enjoy every last feature on your iPad or iPhone. The same holds true for Android powered devices.
Now that you understand the basics, here are some of the additional features that have players excited:
Wild symbols
Spreading wilds
Free spins
Re-spins
If you want to come face to face with the half-fish, half-man creature, you'll need to enter the Free Spins bonus. It's there that you have the opportunity to rescue Kay and boost your winnings along the way.
Bonus Action
If you're going to play Creature from the Black Lagoon, you should expect to get involved with the bonus action at some point. When playing with real money, this is where you can really make up some ground.
The Free Spins feature is triggered when you land three or more Free Spin symbols on the screen. Here is how the spins are awarded:
Three symbols: 10 free spins
Four symbols: 15 free spins
Five symbols: 20 free spins
As noted above, it's this bonus game where you can win the most money. There is no guarantee of success, but you're definitely in position to win thousands of dollars.
Customize Your Wager
Since Creature from the Black Lagoon is a no download game at most online casinos, you can be up and running within a matter of seconds. Of course, you can't spin the reels until you decide if you're going to play with real money or for free.
With coin values ranging from $.05 on the low end to $.50 on the high end, there is enough flexibility that most players can get involved. There is a maximum wager of $100, meaning that high rollers will feel right at home.
Creature from the Black Lagoon Review
Many players aren't old enough to remember the original Creature from the Black Lagoon film, but if you do a little bit of research you'll see why it's remained so popular over the years.
In today's day and age, we take 3D technology for granted. This is something we expect in action and horror movies. Back in the 1950's, however, this was a big deal.
Even if you've never seen the film, you can enjoy playing Creature from the Black Lagoon slots. The theme, bonus features, and betting flexibility ensures that you are engaged from the very start.
NetEnt has a long history of making the most of every release, and it definitely hit it big with this offering.