If you're the type of player who truly loves slot machines, you'll never want to turn your back on this game.
With our Crusader's Heart slot machine review guiding you, it's time to go back to the olden days and search for love the old fashion way.
The Theme
Like most slots, the theme is one of the first things you'll recognize. This is definitely the case with Crusader's Heart.
Aristocrat did an excellent job combining above average graphics and animation with high quality sound. Combine this with the use of unique reel symbols and you have an experience that'll keep you around for a good period of time.
Adding to an intriguing and action packed theme, base gameplay puts all the right details in all the right places.
The five reel setup is standard, however, you'll notice one thing different than many other machines: reels one and five stand taller than two through four. Furthermore, each one has an additional symbol, which gives you more chances to win.
What about the paylines? With Crusader's Heart slots, you can forget about a traditional payline configuration. Instead, your winnings are based on the symbols you collect, regardless of position.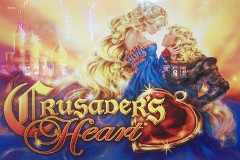 With this approach, you have less to think about. All you have to do is select a wager, spin the reels, and wait to see if you've won.
Speaking of winning, consider the following:
Rewards are based on the symbols you collect and the size of your initial bet.
As noted above, there are no paylines.
The more money you wager the more money you can win.
Tip: the bet max button is in place for those who want to make a maximum wager. This is a risk, but it also puts you in position to win the largest payouts.
Crusader's Heart Slots Symbols
Aristocrat takes the same approach with many of its video based slot games, and this one is no different. There are two paytables, one of which is more exciting than the other.
On one side, you'll find the paytable that consists of playing cards, ranging from nine through ace. These don't pay the largest rewards, but there are several ways to win.
On the other side, you'll find a paytable that's much more exciting. This one has a group of unique symbols, all of which have the potential to payout big winnings.
Symbols include but are not limited to queen, king, and a golden crown. With the right combination, don't be surprised if you win as much as 1,500x your initial bet.
These Symbols are the Best
Base gameplay, with its many high paying symbols, can be extremely rewarding.
However, there are two reel symbols in particular that you want to learn more about:
This is the scatter symbol, with three or more of these leading to the bonus round of 15 free spins.
This is the wild symbol, which can replace any other. It's available on reels two, three, and four. Also, if you collect three on a reel, it will stay in place as the reels re-spin.
Don't focus so much on landing these symbols that you forget about the rest of the game. But definitely keep them in mind as you play, as both of them can lead to a special experience.
Get Down to Business
We're confident that you'll always enjoy yourself when playing a Crusader's Heart slot machine. That said, there's more to this game than simply spinning the reels. You also want to win as often as possible.
All slot games have flaws, and this one is no different. It excels in many areas, however, with some of the most important including:
High paying combinations in base gameplay, making it possible to win thousands of dollars.
The use of a wild and scatter symbol.
Access to a free spin bonus game, during which you can win the biggest prizes.
If you've never played Crusader's Heart, you may be itching to do so the next chance you get. This video gives a better idea of how to play, including what it feels like to reach the bonus game. You may never be as lucky as this player, but if you are you're sure to enjoy the large payout.
Our Final Opinion
You'll never mistake Crusader's Heart for a game that is packed full of extra features. It has a lot to offer, including a bonus round and big base game payouts, but in terms of extras you may come away disappointed.
Even so, when you add up the benefits and combine them with an engaging theme, you're left with a machine that's well worth your time.