Are you the type of person who enjoys betting on horse races? Can you think of nothing better than combining this excitement with a slot machine?
If you answered yes to both these questions, it's time to check out Derby Dollars slots by Realtime Gaming (RTG).
While it's not exactly the same as selecting your horse and cheering it on, it's similar in many ways. This is why the machine has become one of the best in the RTG library, attracting players who are seeking a thrill with each spin of the reels.
Before we go any further, let's examine some cool facts associated with horse racing:
Gambling on horse racing generates more than $100 billion per year.
Horse racing is popular in many countries throughout the world, with the United States and Europe at the top of the list.
There is more than one type of horse racing, such as flat racing, jump racing, and endurance racing.
These facts don't have much to do with the Derby Dollars slot machine, but they should help you understand why the game has become so popular.
Race to Play the Game
If you've ever placed a bet on a horse race, you know one thing to be true: it's difficult to win. Plus, beginners often find it a challenge to learn how to place a wager.
With this online slot machine, nothing could be further from the truth. It's easy to play no matter how much experience or money you have.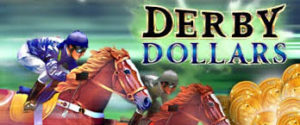 Select your number of paylines, ranging from 1 to 20. From there, select your wager for each payline, starting at a single penny and topping out at $.20.
This is a flexible game that attracts all types of players, from those on a budget to high rollers.
A Free Experience
There are people who will only play online slot machines for real money. There are also those who don't have this luxury, either because they're on an extremely tight budget or aren't permitted to do so in their country.
Fortunately, as with most RTG games, Derby Dollars can be played for free. If you want nothing more than a fun experience, check out this option. You can always change your mind in the future if you decide to wager real money.
Plenty of Ways to Win
When playing for the first time, you'll come across two sets of reels. There are those that are unique to the game and based on horse racing. There are also playing cards, ranging from nine through Ace, which don't payout nearly as much money.
During base gameplay, the top prize is 2,000 coins. This isn't the largest jackpot, but it's enough to keep you excited.
If you're waiting for the serious fun, you'll want to watch out for the Wild Horse symbol. With the ability to award an instant win of more than 3,000 credits, this is something that could quickly put a smile on your face.
Like other RTG slot machines, there is a free spin bonus. You'll receive free spins if you collect two or more coin (scatter) symbols on the screen:
Two scatter symbols award five free spins.
Three scatter symbols award 10 free spins.
Four scatter symbols award 15 free spins.
Five scatter symbols award 25 free spins.
The free spins alone are exciting, but remember this as well: all wins during the bonus round are tripled.
We've yet to mention it, but it's well worth talking about. There is a random progressive jackpot that's awarded without notice at the end of any spin. It has been known to push well past $2,500, so keep track of the payout via the counter above the reels.
Run Wild
When you play a Derby Dollars slot machine, you'll feel like running wild with the horses.
The SlotsJack team is a huge fan of the theme (we love horse racing), as well as the free spin bonus and random progressive jackpot.
It's not the only free and real money online slot machine by RTG, but the theme has ensured that it remains a player favorite.