Let us tell you something you already know: you don't want to end up in hell.
Of course, if hell were as fun as the Devil's Delight slot machine, it may not be all that bad.
This NetEnt online slot puts a humorous spin on a serious subject. Regardless of your feelings on the theme, when you sit down to spin the reels the only thing on your mind is money.
The company takes great pride in this game, even if some players find it a bit controversial. While the theme alone is sure to attract bettors, there are other benefits of spinning the reels.
In the review to follow, we'll discuss everything from the graphics to the payouts to the special features – and that's just the beginning.
Your Guide to Getting Started
The name tells you everything you need to know about the theme. You can expect bright colors, plenty of animation, and audio that's a bit ominous.
With 5-reels and 20-paylines, the game features a simple configuration that most players understand. But just the same as Demolition Squad, the basic layout doesn't take anything away from the fun of the game. If anything, it enhances the action because you don't have to worry about becoming confused.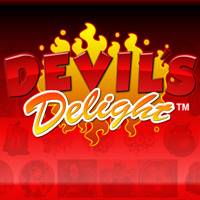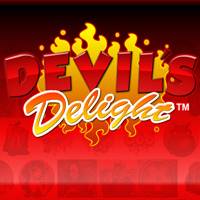 If you want to chase big winnings on your journey into the underworld, you'll have plenty of opportunities to do so. With a top jackpot of approximately $120,000, this sounds more like heaven than hell. Maybe NetEnt should have called the machine Heaven's Delight?
Play Devil's Delight Slots for Free
The word free is like music to your ears. Devil's Delight slots can be played for free at a variety of online casinos.
This variation of the game is popular among three primary groups of players:
Those who don't have enough knowledge of the game to confidently play.
Those who aren't permitted to play real money online casino games in their country.
Those who are short on cash, but still want to experience the thrill of a high quality online video slot machine.
Tip: the free and real money versions of the game are one in the same in regards to features. This allows you to easily switch from one to the other without losing track of what you're doing or adjusting your strategy.
Mobile Compatible
There always has been and probably always will be a large contingent of people who enjoy playing online slots on their computer.
Devil's Delight is compatible with Mac, Linux, and Windows computers, ensuring that just about every player can get involved.
You can play even if you don't have a computer, thanks to the mobile friendly setup. With access to a smartphone or tablet, you can spin the reels and take full advantage of the graphics and audio that have helped make Devil's Delight such a big winner.
Your Time has Come
As long as you're alive and kicking, you can sit down to play this machine. If you're doing so with real money, you'll want to know a few things:
There are 10 distinct betting levels.
Coin denominations range from $.01 to $.50.
The minimum wager per spin is $.20, as the paylines are fixed.
The maximum wager is set at $100.
The queen, king, and ace symbols carry the lowest value. These are accompanied by others, all of which are associated with hell, that are higher paying.
For example, there is a skeleton's hand, heart, wings, and a flaming 666. As you make your way up the ladder, the highest paying symbol is the red skinned, dark haired, devil woman.
Now, let's move onto some of the extra features and bonus games:
The red pentagram is the scatter, with three or more triggering the free spin bonus.
During the free spin game, two or more scatter symbols will activate a multiplier or additional free spins.
The multiplier during the free spin round can reach as high as 5x.
The wild symbol is just what you would expect: Satan himself. He can substitute for all other symbols, except the red pentagram, allowing you to form higher paying combinations.
Along with all the above, there is one last feature worth noting: the Soul Reaper Bonus. This feature only comes about if you collect a Grim Reaper bonus symbol on the second, third, and fourth reels.
Your goal is to match each sin with the character best associated with it. As you make your choices, the "Soul Meter" keeps track of your winnings.
Our Complete Game Review
At first glance, you may be scared to play the Devil's Delight slot machine. After all, the theme has a way of making anyone uneasy. Even so, everything about the game is designed to ensure that you have an enjoyable experience.
At SlotsJack, we don't mind the theme. In fact, we think it's unique enough to attract all types of players.
After reading our review, we hope you better understand how to play, how to win, and how to take full advantage of the many bonus features.