A romantic theme inspired by money is the backdrop for the Diamond Dozen slot machine game.
Developed by Realtime Gaming (RTG), this game is all about diamonds, money, and making that special lady in your life happy.
It doesn't matter if you're a diamond connoisseur or have never held one of these in your hand, you can appreciate the beauty and simplicity of this machine.
Since diamonds and money are synonymous with slots, it's only natural for there to be many games based around this theme. In addition to this one, players have come to love both Da Vinci Diamonds and Triple Diamond.
An Easy Way to Play
RTG makes life simple on all its online players. This definitely holds true with Diamond Dozen slots, as it's easy to sit down at your computer, pull up the game at your favorite casino, and spin the reels.
Although diamonds are associated with big money, this game doesn't follow the same style in regards to betting options. Instead, it was developed with "low budget" players in mind.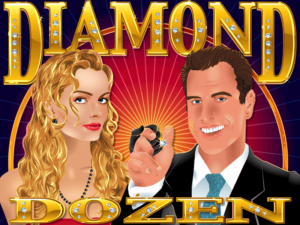 There are 20 paylines and you have the ability to place a wager on as many of these as you want. The minimum bet per payline is one cent. In other words, you can wager as little as a penny to get started. Of course, you can also place a bet on each payline, one penny each, for a total bet of $.20.
For those who like a bit of a risk, you can bump up to the maximum wager of $.25 per line, for a total outlay of $5.
What About Playing for Fun?
Every time you play the Diamond Dozen online slot machine you're bound to have fun, as there's nothing more exciting than chasing after high value diamonds.
But get this: you can also play for free. You surrender the opportunity to win real money, but this doesn't take anything away from you in regards to the fun that you'll experience.
Note: as a mobile friendly game, you don't need a computer to play. Instead, you can get started, for free or with real money, on your smartphone or tablet.
A Special Game
All of the reel symbols associated with the game are designed around the theme of love. In addition to diamonds, you'll come across wedding rings, roses, and of course, a good looking guy.
On the low end, five red rose symbols pays out 300 coins. With other symbols, such as the handsome man, the top payout reaches 3,000 coins.
If base gameplay gets you excited, you'll really be grinning when you access the Diamond Delight feature.
You're prompted to click all the white diamonds on the screen, as this reveals a multiplier associated with each one. Even better, these are added together and then multiplied against your wager to calculate your payout.
Just the same as most RTG games, there is also a free spin feature. You enter this round when you collect three or more blue diamond symbols. This awards 12 free spins, during which any winning payout is doubled.
Last, but certainly not least, Diamond Dozen features the famous RTG random progressive jackpot. This is awarded after any spin, regardless of how much you wager or whether or not you're a winner or loser.
The progressive jackpot doesn't typically reach five figures, but don't be surprised if it's in the $2,000 + range as you play.
Interesting Facts About Diamonds
Diamonds are forever and so is this game. Here are some interesting facts that add to the intrigue of the theme:
Diamond is the hardest natural material in the world.
While diamonds can be found in many locations throughout the world, the majority are located in Africa.
Diamond is the most popular gemstone, which is why it's used in a variety of jewelry.
Note: this article details the 10 largest diamonds ever discovered.
A Thrill a Minute
Playing the Diamond Dozen slot machine is a thrill a minute.
From the small starting wager to the free spin feature, from high base payouts to the progressive jackpot, there's always something going on. And that's why this game shines bright!