There are people out there who will tell you that disco is dead. While they may be right, this doesn't hold true when it comes to the Disco Spins slot machine by NetEnt.
Simply put, this game remains alive and well despite the fact that disco began to die off in the 1970's.
Many players seek slot machines that take them back to an easier time. A time when they didn't have a care in the world. This is exactly what these bettors get with Disco Spins.
NetEnt is a company that never fails to develop slot games with themes that attract a specific group of players. At the same time, thanks to a variety of features and plenty of flexibility, almost every machine has something to offer the industry as a whole.
A Blast Into the Past
With a cartoon inspired disco theme, everything about this game is fun. As you play, and hopefully win, you may find yourself doing a little dance at your computer – and there is nothing wrong with that.
Disco Spins has 5-reels, 20-paylines and 3-rows. This is a simple configuration, much the same as you will find in similar games from the company.
With fixed paylines, you have no choice but to play all 20. While this sounds like a bad thing, there are 10 bet levels that offer flexibility. Coin denominations range from $.01 on the low end up to $1 at the top.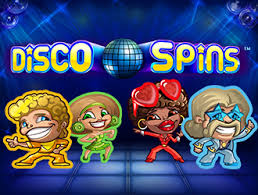 For small budget players, a minimum wager of $.20 may be the sweet spot for getting started. Conversely, if you have some money to risk, you may want to push yourself to the maximum of $200 per spin.
As a high limit game, you can expect one thing in return: big payouts. And by big, here is what we mean: the top jackpot is set at 230,000 coins.
Technology for All Players
Have you ever come across an online slot machine that isn't compatible with your technology? This can be extremely frustrating.
Fortunately, NetEnt never puts you in this position. All its games, including this one, are compatible with the major operating systems: Linux, Mac, and Windows.
Even better, you can play on your mobile device. This is a big win for players who enjoy spinning the reels via their smartphone or tablet.
Play for Free
Another huge benefit is the ability to play for free. You can wager real money if you want (see above), but this isn't required.
Most online casinos that offer NetEnt games allow you to play for free and with real money. Even better, the features of each version are exactly the same. This works well for those who start out playing for free, but want to move onto the real money game at some point in the future.
Dance Your Way to Big Winnings
Everything about the game is disco inspired, meaning that you're sure to get a kick out of the reel symbols, audio, and bonus features.
The low value symbols are represented by playing card values, starting with jack and ending with ace. All the higher paying symbols are disco dancers, with each one reminding you of your favorite club from the 70's.
Nice payouts can be had in base gameplay, but the biggest money is paid out during the bonus games.
For example, any of the five dancing characters can become a wild symbol. This makes it easier to not only activate a wild symbol, but to also use this feature to win more money.
There are two distinct Free Spins games:
Regular free spins
Disco Spins
To enter either game, you need to collect three or more disco ball scatter symbols on the screen.
Note: these only appear on the third, fourth, and fifth reels.
With the Regular free spins game, you receive 15 free spins alongside a 3x multiplier.
The Disco Spins game is a bit different, with this one awarding 10 free spins and the addition of scatter symbols.
Disco Spins Slot Review
Wouldn't it be great if disco were as popular today as it was 40 years ago? If you miss the good old days, we hope that this Disco Spins slot machine review brings back some memories.
The theme is the biggest reason to play the game, but you don't want to forget about:
The two free spin bonus features
The top jackpot of 230,000 coins
The ability to play with real money, for free, and via your mobile device
What do you think? Are you ready to bring disco back?