Divine Fortune is one of the newest online video slot releases from NetEnt. Reaching casinos in late 2016, it didn't take long for the game to garner the attention of players from all over the world.
Being that it's a new release, you can be rest assured that it's packed full of modern features designed with the idea of keeping players engaged.
In the Divine Fortune slot review to come, we're going to examine the finer details of the game. From the theme to the features, you can expect to learn more about how to play, how to win, and how to get the most out of your experience.
From the moment you sit down to play, you'll realize that you're taking a step back in time to ancient Greece. The basics of the theme are shared with other games, such as Zeus by WMS Gaming, but that doesn't mean the experience is the same. In fact, we're confident in saying that there isn't another game quite like this one.
Playing and Winning
Anytime you play the Divine Fortune slot machine you're in position to have an enjoyable time. While it may not be ideal, this holds true even if you aren't winning a lot of money.
Known as a Jackpot game, there are many high level features that offer the potential to win big money. Some of the features include:
Jackpot Bonus game
Free Spins
Re-Spins
Wild symbols
We'll discuss these features in greater detail below, but for now let's examine the layout of the game.
It has 5-reels, 20-paylines (all of which are fixed), and 3-rows. Although Divine Fortune is a new release, this is the same configuration used by many NetEnt video slot machines.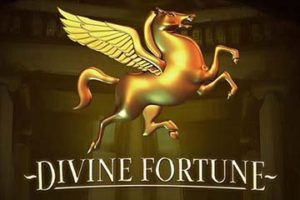 Speaking of video slots, this technology provides a playing experience that's hard to beat. From the graphics to the animation, everything is clear as day and engaging to the point of moving you to the edge of your seat.
Note: you can take in some of the action by watching the game's official promotional video.
In addition to the reel symbols associated with ancient Greek culture, the game uses playing card values to fill out the reels. The unique symbols payout more money, but any win is better than none at all.
Getting started is as simple as choosing your wager, with a range from 0.20 to 100.00 credits.
The Choice to Play for Free
With the chance to win so much money, many people gravitate toward the real money version of Divine Fortune slots.
While there's nothing wrong with betting money with the hope of winning more in return, you can also play this game for free.
The free game is identical to the real money version, with the only difference being that you don't need any money in your account to get started.
Note: most online casinos have a no download free game, meaning that you can find yourself spinning the reels within a matter of seconds.
Mobile Friendly Too
Through our research, we've found that the majority of Divine Fortune bettors still prefer to spin the reels on their desktop or laptop computer.
Even so, there is a growing number of people who would rather use their mobile device to play.
NetEnt had you in mind when developing this game, as it's compatible with both the iOS and Android operating systems.
If you use a tablet or smartphone powered by one of these operating systems, you'll find it easy to play on the go.
Getting Started
You now have all the knowledge you need to get started. However, there are a few other things we want to talk about.
First off, with a fixed payline format, you don't have to worry too much about your strategy. Instead, you simply need to choose a wager within your budget.
Note: the Divine Fortune slot game has a RTP of 96.69 percent, which is extremely competitive when compared to other online machines.
Here are some additional details to keep in mind:
The wild symbol, which is a white horse, activates a re-spin of the reels. If you land another wild behind this, the wild expands for the chance to win a huge payout.
The Free spin feature is not as advanced as some games, as you can only collect a maximum of 12 spins. Also, there is no re-trigger feature. While this may disappoint you, keep this in mind: any wild symbol during a free spin turns into an expanded wild. Best yet, with one of these on your screen, the wild re-spin remains in play. This means that you can actually spin the reels for free more than 12 times.
It's these types of features, although available in many other slot games, which give Divine Fortune a special twist.
Three Jackpots to Win
There is never a bad time to play an online slot game with a progressive jackpot. When you add three of these into the equation, you shouldn't hesitate to sit down and spin the reels.
Before we go any further, it's important to note that your chance of winning the largest progressive jackpot is tied directly to how much you wager. In other words, the more you bet the greater chance you have of taking home this pot.
The three jackpots are known as:
Minor (smallest)
Major (middle)
Mega (largest)
The minor jackpot is typically in the $10 to $20 range, which isn't usually enough to get most bettors excited.
Moving up the chain, the major jackpot typically sits between $50 and $100.
Finally, the mega progressive is the one you want to win. With the ability to easily reach six figures, winning this will change your life forever. In the past, we've seen the jackpot climb close to $200,000. This makes it one of the largest offered by a NetEnt slot.
Our Divine Fortune Slot Review
Unfortunately, we've heard from many players who have never given this game a try. They assume that it's just the same as most other NetEnt games, which is not only a shame but also inaccurate.
If you've read this Divine Fortune slot machine review in its entirety, you know one thing to be true: the game is 100 percent unique, down to every last detail.
There's a lot of information in this review, but we're going to leave you with our three favorite features:
The use of a three progressive system with a gigantic mega jackpot.
The free spin bonus complete with the wild re-spin feature.
The opportunity to play via a mobile device and for free.
Although there are other slot machines that have a lot to offer players, we can't think of many that have as many features and payouts as high as Divine Fortune.