If you want to double your happiness when playing slot machines, there's one sure fire way of doing so: choose the right game.
With Double Happiness slots by Aristocrat Technologies, you'll soon realize that there's nothing more important than the way you feel when the reels are spinning.
The company continues to push this game, knowing that it's one of the best in its lineup. But don't take anybody else's word for it. If you want to see what this machine is all about, you need to get personally involved.
The 5-reel, 25-payline configuration is the same as you'll find with hundreds of other slot games. However, there are unique features of this machine that attract all types of players.
How to Play
Just the same as most games by Aristocrat, a Double Happiness slot machine is simple to play. There are a few things to keep in mind as you get started:
Asian inspired theme complete with reel symbols such as: golden lantern, firecrackers, and a golden dragon.
The ceremonial golden dragon symbol acts as the wild.
Use of a gamble button allows you to instantly take the chance to double your payout.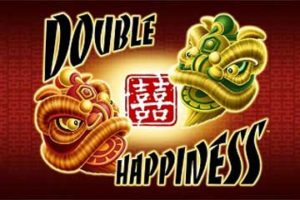 Along with the above, Double Happiness slots feature an exciting free spin bonus round. Entering this game means collecting three or more scatter symbols (Double Happiness logo) on the reels.
Three scatter symbols award 10 free spins, with four awarding 15, and five awarding 25.
Regardless of how many free spins you begin with, you have nothing to lose. Even better, you can retrigger the feature by once again collecting three or more scatters.
A Powerful Online Slot Game
Just because you don't have the time to visit a land based casino doesn't mean you don't have the urge to play a good slot machine. This is why Double Happiness slots are available for free and real money play online.
The features of the game never change, no matter if you are playing for free or with real money. However, your strategy may need some adjusting.
When playing with real money, you have to make choices such as:
How many paylines to activate.
Whether or not you will take advantage of the gamble button.
How long you play.
With a free Double Happiness slot machine, these points aren't nearly as important. Since you're playing with house money, you have nothing to lose. The only thing that matters is that you have a good time.
Tips for Playing a Double Happiness Slot Machine
There is no guaranteed way to win at Double Happiness slots, but there are some tips you can follow to improve your experience:
Consider all your options, including the free online version of the game.
Understand what goes into making a bet. Will you bet on one payline? How about all of them?
Use the gamble button if you're feeling lucky and looking for a quick way to double your money (hopefully).
Live it up when you enter the free spin bonus round.
Above all else, keep a positive attitude so you can enjoy every minute of your experience.
The Time has come
With this review of Double Happiness slots, you now know quite a bit about this casino game.
There is one last question to answer: when will you finally sit down and play?
If you are intrigued by a unique, exciting, and potentially profitable gaming experience, you'll want to give this game a whirl online or at a local casino.