Aristocrat is known for its large library of slot machines, including many that share the same basic theme with games from other companies. Although Dragon's Vault fits this mold, it's important to remember one thing: the theme may be similar to others, but the experience is 100 percent unique.
Note: this isn't the only Aristocrat game based on a dragon theme, with Dragon Emperor and 5 Dragons also big hits.
With video technology powering the machine, you can expect high quality animation, graphics, and sound. This helps attract and engage players, especially those who enjoy the extra features that have come to make today's slots so enjoyable.
The Look and Feel
With Dragon's Vault slots, it only takes one spin to go back in time to ancient China.
But of course, the backdrop and reel symbols can only do so much for you. At some point you need to stop, pay attention to what you've come to do, and realize what it takes to become a winner.
Flexibility is Key
It can be difficult to play a slot machine when you only have a few options. Not only can this limit your fun, but it can also stop you from playing within your financial means.
Fortunately, a Dragon's Vault slot machine will never hold you down in this manner. Instead, it's one of the most flexible games on the casino floor.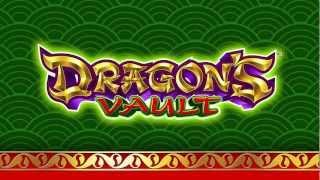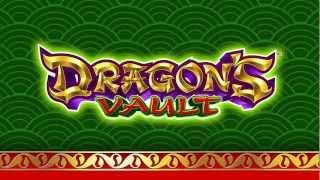 It all starts with two key details:
There are six reels, as opposed to the standard 5-reel setup that Aristocrat uses in many of its games.
There are no paylines, which allows you to form winning combinations regardless of where the symbols appear on the screen.
With these details in mind, you can now select your wager (make sure it fits your budget) and spin the reels.
Here are a few other details worth mentioning:
Your winnings are based on the reel symbols you collect and how much you bet.
You can use the bet max button to wager the maximum number of credits (this gives you access to the largest payouts).
There is an auto-spin feature that allows for a hands off experience.
Now are you beginning to see what the word "flexible" truly means in regards to a slot machine?
An Action Packed Experience
We've covered the basics, so now it's time to dig into the finer details. Most importantly, you want to become familiar with the two paytables.
The first one is an Aristocrat standard, as it includes playing card symbols ranging from nine to ace. These don't payout big money, but a winning combination will keep you in the game longer.
The second paytable is more exciting, as this is the one with unique reel symbols. These include: lantern, firecrackers, and a variety of dragon symbols (among others).
With the ability to win 1,000+ coins for a variety of combinations, you want to collect as many of these unique reel symbols as possible.
A Couple Special Symbols
Base gameplay, complete with its attractive theme and big payouts, will keep you occupied. However, there are a couple of special symbols that add to the experience.
For example, the red dragon acts as the wild. This special symbol can replace any other, increasing your odds of a win.
The scatter symbol, which is depicted by the golden coin, is even more intriguing. When you collect three or more of these, you're taken to a bonus round in which you're awarded as many as 20 free games.
Note: pay close attention during your free spins, as two reels will fill up with the red dragon wild.
A Player Favorite
As a slot player yourself, you know there are games you'll enjoy and those you'd rather pass by.
Over the years, Dragon's Vault slots have become a player favorite. There are people out there who don't like the finer details of the game, and there's nothing wrong with that. Even so, it's achieved a high level of success for a few reasons:
Dragon themed slot machines have been and probably always will be appealing to a large number of players.
It's one of the most flexible games on the casino floor, which makes it easy for the majority of players to get involved.
Payouts are above average, both in base gameplay and the free spin round.
If these details excite you, there's a good chance you've found a machine that'll suit most your requirements.
Our Dragon's Vault Slot Machine Review
Yes, it's another dragon themed slot machine by Aristocrat. But no, it's not the same old experience.
The reel symbols give the game a unique feel, the payouts will keep you excited, and the bonus round is always a thrill.
Dragon's Vault may not be our favorite Aristocrat slot machine, but it's definitely one to check out if you get the chance.