Dream Rose may not be as popular as other Aristocrat games, such as Buffalo slots, but that doesn't mean these machines sit empty in casinos throughout the world.
Once you give this romance themed game a few minutes of your time, you'll have a better idea of what it has to offer.
As one of the newest machines released by the company, it uses the Helix cabinet that is known for a variety of features:
Frameless display, meaning more room for action.
A 23 inch, backlit HD display (it's crystal clear).
The use of a quad sound package to bring you into the game.
While the Helix cabinet is exciting in its own right, it may not be enough to attract you. Fortunately, there are other things about Dream Rose slots that add excitement to the experience.
The Finer Details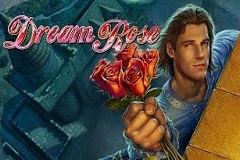 We've heard a lot of players complain about the graphics and animation, but we see things a bit differently.
Sure, the characters are a bit strange, but this adds to the mystique of the game. It provides another unique angle that makes it worth playing.
Thanks to two eight by five reel sets, there's nothing ordinary when it comes to Dream Rose slot machines.
Although the two unique reel sets keep you busy, there's more to see. Keep your eyes peeled for the scatter tower symbol as this is the one that will bring you into the free spin round.
If you're lucky enough to activate the free spin game, you'll find yourself with 15 chances to win, all with no risk involved. Even better, you can retrigger the free spins multiple times, allowing you to play with house money even longer.
But wait, we aren't done yet. There's one last thing to talk about: the five progressive jackpots.
Every so often you'll come across rose coins that grab hold of the reel symbols after a spin. If you collect enough of these on a single spin, you will activate one of the many progressive jackpots.
Should You Play a Dream Rose Slot Machine?
Due to a lack of hype, this casino game has a way of slipping through the cracks. And that's a shame, because it means that many players are missing out on a machine that is packed full of features.
Whether or not you play is your decision, but here are some reasons to consider it:
There are five progressive jackpots, meaning that big wins are closer than you ever imagined possible.
You can win 15 free spins at any time, which adds to the excitement of base gameplay.
You can play online and at brick and mortar casinos. For example, The Mirage is a great place to visit if you're a fan of Aristocrat's many offerings.
For those who still can't make up their mind, take the time to watch this video shared by a lucky player who entered the free spin bonus round and won a few bucks.
SlotsJack has Fallen in Love
As one of the most romantic slot machines around, the SlotsJack team has fallen in love with Dream Rose.
The use of the Helix cabinet is one of our favorite things about the game, as this makes for a smooth and enjoyable experience.
When you add in the theme, graphics, and audio, you have a machine that engages the player.
Finally, the progressive jackpots and free spin bonus round are meant to keep you in love over the long run.
It doesn't matter if you play Dream Rose slots online or head to a land based casino, there's no hiding from all the benefits it has to offer.