NetEnt never stops short when developing a new slot machine game. With Drive Multiplier Mayhem, there is more than fast cars and big wins. Instead, the theme takes you into the future, giving you the opportunity to experience life on the road as you've never seen it before.
Every time we sit down to play this game we think about The Fast and the Furious movie series. You get the same kind of action and thrills, with one major difference: this game provides many opportunities to pad your bank account.
Officially known as Drive: Multiplier Mayhem, you'll watch as the primary character, Jette, races for the finish line. Along the way, this 5-reel, 3-payline video slot machine will keep you engaged with free spins, multiplier wilds, and a top jackpot of 750,000 coins.
A Few Things to Know
We've already talked about the theme and the configuration, but there are a few other things you need to know about Drive Multiplier Mayhem slots.
The bet line multiplier can reach as high as 120x, which is extremely competitive when compared to other online slots.
You don't have to wager real money, thanks to access to a free version.
It's mobile friendly, allowing you to spin the reels on your tablet or smartphone.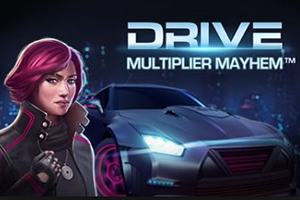 These basic points should help you better understand how to play and how to win.
A Wild Ride
With the Drive Multiplier Mayhem slot machine, every time you spin the reels you're in for a wild ride. The reason for this is plain to see: there are multipliers that range from 1x on the low end to 120x at the top.
Speaking of wild times, cross your fingers that you gain entry to the Free Spins bonus at some point. Doing so means collecting three scattered race starters on the second, third, and fourth reel. This triggers 10 free spins, while also putting you in position to take advantage of a multiplier.
Note: when you land nitro symbols during the free spin round, you gain access to additional free spins and multiplier wilds. This makes it possible to spend a better part of your experience in this bonus round – you simply need to get there first.
Crazy Yet Straightforward
With all the action, you may be concerned that you won't be able to stay the course when playing this game. Don't let this cross your mind. It may be fast paced, but once you settle in you'll know exactly what's expected of you.
The action begins when you place your first bet, which can range from .02 to .5. Along with this, there are 10 distinct bet levels to ensure that you remain within your budget.
Although the theme is different, Drive Multiplier Mayhem reminds us of Crime Scene in many ways. This is also a fast paced NetEnt game with a variety of features that seem intimidating at first. However, over time, it has a way of becoming a player favorite.
Drive Multiplier Mayhem Slot Review
There are people out there who love cars and racing. There are also people who don't know the first thing about this. Regardless of where you fit in, you should still give this machine a try.
Our Drive Multiplier Mayhem slot review is meant to provide you with the guidance you need to play with confidence.
If you want a clear idea of why this game is growing in popularity with each passing day, here's what we think:
The top jackpot of 750,000 coins is attractive.
The 120x multiplier is both exciting and potentially profitable.
Bettors have the opportunity to play on their computer and mobile device (for free or real money).
If you want to learn more, the best thing you can do is spin the reels. Even if you play for free, this will give you an inside look at the theme and what to expect.