When Dumb and Dumber hit movie theaters on December 16, 1994, nobody knew what to expect. However, after a few short days, it was clear to most that it would go down as one of the top comedy films of all time.
With all this in mind, Aristocrat decided to take full advantage in 2015. While it took the company quite some time to push Dumb and Dumber slots to casinos throughout the world, it was well worth the wait.
Similar in many ways to Downton Abbey, this game began to pick up a nice following in a relatively short period of time. Now, if you want to play, you may find it difficult to locate an open machine.
You Know the Theme
Based on the film itself, players have the pleasure of embarking on a crazy journey with Harry and Lloyd.
If you're familiar with the movie, you'll also be familiar with the reel symbols. In addition to both Harry and Lloyd, there's Mary as well as other stars and props from the film.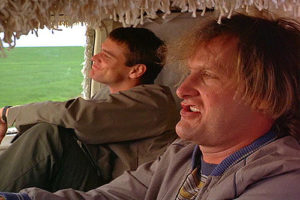 Sticking with the theme, it's only natural for the Dumb and Dumber slot machine to have some of the best sound effects and animation in the industry. After all, the soundtrack to the movie is unforgettable.
A Unique Slot Game
It's easy to believe that Aristocrat would rely on the theme alone to make this game popular. But instead, the company went to great lengths to ensure that it's unique in every way possible.
Take for example the 3/4/4/4/3 configuration. This isn't something you see every day, but once you get involved you'll realize that it fits the game nicely.
Our Favorite Feature
We'll be the first to tell you that you have to play a Dumb and Dumber video slot game for yourself to fully understand just how exciting (and silly) it is.
Even so, there's one feature that we enjoy more than the rest. When you collect three bonus scatters, depicted by the famous dog van, you gain access to the wheel that's located above the main playing area.
With your spin, you may find yourself winning an instant prize. Even better for some, it could take you to another bonus. These include:
Dante's Inferno
Mary's Big Wheel
Aspen Free Spins
It doesn't matter which bonus game you enter, nothing changes the fact that the video scenes and sound effects will keep a smile on your face.
The Movie
If you enjoy outrageously funny movies, it's safe to assume that you've watched Dumb and Dumber quite a few times. While you may know your favorite scenes off by heart, there are some other facts and figures that you may not be familiar with:
The film's budget was $17 million, but it grossed $247 million at the box office.
Its soundtrack is considered one of the best ever in a comedy, thanks to the likes of: Get Ready, The Ballad of Peter Pumpkinhead, New Age Girl, and If You Don't Love Me (I'll Kill Myself).
Despite its popularity, the movie did not win any major awards.
If you liked the first movie, you owe it to yourself to also check out Dumb and Dumber To. Released in 2014, it grossed $169.8 million at the box office.
Note: despite the film sequel, there's no reason to believe that Aristocrat is releasing a follow-up game.
We Love the Dumb and Dumber Slot Machine
At SlotsJack, we do whatever it takes to provide high quality, in-depth, honest reviews.
We love this game for many reasons, including the fact that it's based on a crazy funny movie.
Even if you don't enjoy the on-screen antics of Jim Carrey and Jeff Daniels, you'll likely to have a one-of-a-kind experience with this game.
If nothing else, play Dumb and Dumber slots for its theme, bonus action, and industry leading animation and sound effects.