Have you ever come across an online slot machine game that appears downright crazy at first glance? Well, this is how many people feel when they first lay eyes on EggOMatic by NetEnt.
Once you take a crack at this video slot, there's a good chance you'll find yourself coming back for more in the future.
Before we dive into the more exciting details, let's take a step back and look at the theme. We liken it to Boom Brothers. It's not that these games have a similar theme, however, it shows that NetEnt is always thinking outside the box.
Once you spin the reels, you'll soon realize that you're inside a robot egg factory. Yes, this is a bit silly. But regardless of how the company came up with this theme, it's one that will always have you smiling.
Here's How You Play
Now that you understand what the EggOMatic slot machine offers in terms of the theme, you need to learn more about actually playing.
We'll start by saying this: it has a traditional 5-reel, 20-payline layout, complete with 3-rows.
We enjoy the fact that NetEnt used this configuration, as it helps cut back on the learning curve for new players.
Speaking of players, how much money are you willing to wager? With coin values ranging from .01 to 1.00, you won't be hurting for options.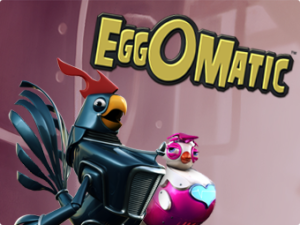 Note: the minimum wager is set at .20, with the maximum reaching as high as 200. This allows the game to attract budget-minded bettors, as well as those who are high rollers.
If you want to win a lot of money, the EggOMatic slot game has something for you. Here's why: the top payout is 94,750 coins. This isn't the largest jackpot offered by the company, but it's anything but small change.
EggOMatic Slot Free Play Option
With all this talk about money, you may be concerned that you can't afford to play. Don't fret, there's something for you: free play.
The way this works is simple:
Find an online casino that offers free NetEnt slot machines.
Locate the EggOMatic game.
Spin the reels.
It really is that simple. You don't need to do anything but find the game and get started. Since you're playing for free, there is no reason to deposit money.
If you eventually decide that the real money version is better suited to your style, you can always make the change when you see fit.
Mobile Friendly
Would you rather play slots on a device other than your computer? While EggOMatic is compatible with Mac, Windows, and Linux powered computers, you don't have to marry yourself to one of these options.
You can also play on a smartphone or tablet. Most people have a device powered by the Android or iOS operating system, but any other will work as well.
A Long Feature List
During base gameplay, the "EggOMatic" can generate four unique types of eggs. These include:
Coin Win Eggs (most common)
Spreading Wild Eggs
Free Spins Eggs
Surprise Egg
Winning is simple: an egg appears directly above a wild rooster symbol (if you're lucky). From there, once the rooster cracks it open, you'll see how much money you've won.
With four distinct types of eggs, there is more to playing than what you first realize. For example, if you crack open a Free Spins egg, you can win up to 50 free spins. Even better, these can be retriggered during the bonus round.
Our Review Will Guide You
There is no magic formula for winning at this game. Fortunately, with this review, you now have the information you need to understand how the action plays out on your screen.
We'll be honest in saying that we first didn't know what to expect from the EggOMatic video slot machine. The idea sounded interesting, but you never really know what a game is all about until you sit down and spin the reels.
After a few free spins and a couple discussions with others, we realized that it had the opportunity to be something special. We remain big fans for a few key reasons:
You won't find another game with the same theme, as it really is one of a kind.
The use of four types of eggs during base gameplay always give you hope of winning big.
The opportunity to win up to 50 free spins, along with a retrigger feature.
As you play, you're likely to come up with your own list of benefits. If you've yet to give it a try, you should see if EggOMatic suits your style. Like us, you may be surprised to find that it does.