When you first lay eyes on the Elements: The Awakening slot machine by NetEnt, you may have a hard time figuring out what is going on. While the bright graphics may confuse you at first, you'll soon settle in and realize what it takes to play the game.
While some players consider the visual aspects of Elements slots a disaster, others see it as a masterpiece. Despite the fact that the beauty of the graphics are in the eye of the beholder, there are features of this game that the majority of people love.
Game Basics
Many NetEnt video slots, such as Egyptian Heroes, have a standard configuration of 5-reels and 20-paylines.
At first glance, Elements appears to be built in the same mold. However, as you begin to play, you'll realize that this isn't true.
Although there are 20 fixed paylines, the traditional reel setup is missing. Instead, symbols simply fall into place from above. While it takes some getting used to, most players come to find that this unique feature adds some excitement to the game.
Coin denominations include .01, .02, .05, .10, and .50. Along with this, there are 10 bet levels that provide extreme flexibility. This makes Elements video slots a strong choice for low budget players as well as those with more money to risk.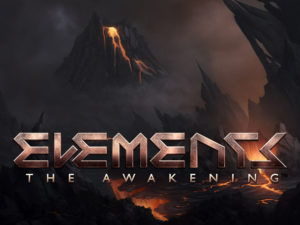 Note: the minimum wager is set at .20 with the maximum reaching 100. Of course, there are many options in between to ensure that you find your "sweet spot."
Just the same as any slot machine, it's never easy to win the jackpot. However, with a top payout of 300,000 coins, you owe it to yourself to try. If luck is on your side, you may be able to pull down a life changing amount of money.
Play the Free Elements Slot Game
In the section above, we talked quite a bit about your many betting options. If money isn't the first thing on your mind, you may enjoy the free version of this slot machine. This is the perfect fit for players in these categories:
Those who don't have any money to risk on casino games
Those who are only looking to have fun
Those who want to experience a slot before playing with real money
Those who are unable to play real money casino games in their country
Do you fit into one or more of these categories? If so, you will enjoy the fact that you can play for free.
A Mobile Friendly Game
Many players experience Elements slots via their desktop computer. There is a reason for this: the game is compatible with every major operating system.
Did you know that it's also mobile friendly? This means you can spin the reels on your tablet or smartphone, from pretty much any location.
Elements is a favorite slot among iOS and Android fans, such as those who use their iPhone or iPad for the majority of their computing needs.
Reasons to Play
We've talked about all the basics, but now it's time to discuss the primary reasons to play.
In addition to chasing a huge jackpot, Elements is known for its four unique Free Fall modes and its Avalanche feature.
The Avalanche feature, for example, is something that attracts many players to the game. This activates when a winning payline appears. At that point, reel symbols blow up and disappear from your screen, leaving space for new ones that fall from the sky.
With each avalanche fall, the Avalanche Meter moves up a notch. With four of these in a row, one of the four Free Fall modes is triggered. At that point, a unique feature is added to the game, such as random or expanding wilds.
A Review to Guide You
There is no way of knowing if you'll enjoy Elements: The Awakening until you sit down and spin the reels. Even if you play for free, you're provided the opportunity to learn more about the game.
NetEnt speaks highly of this video slot machine, talking up the many features that set it apart from the competition.
At first, we weren't sure if we'd like this game. The graphics are overly bright and the configuration is anything but traditional. Over time, however, we fell in love with everything Elements slots has to offer.