When you think about slot machines based on movies and television characters, Elvira Mistress of the Dark may not come to mind.
However, Aristocrat wants you to know that this game is not only exciting, but also full of potential profit.
Much the same as the Dumb and Dumber slot game, this machine got its roots from a film. This one, based on the 1988 comedy horror film, is interesting for many reasons.
First off, the theme lends itself well to the slot machine experience. Along with this, Elvira Mistress of the Dark was not a popular movie. It's famous, but not because it was well received. Instead, it's considered by many to be one of the most ridiculous films of its time.
Regardless of how you feel about the movie itself, nothing changes the fact that the slot machine has generated a nice response in casinos throughout the world.
What You Get
In the same manner as the movie, players either love or hate Elvira Mistress of the Dark slots. There's not much of a middle ground.
While this review should provide you with some guidance, you won't know your true feelings about the game until you sit down to spin the reels.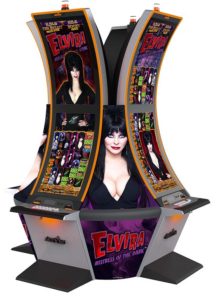 Aristocrat didn't go outside the box with this machine. Instead, everything is associated with the movie and leading character.
Reel symbols are exactly what you would expect, with each one having something to do with Elvira and the film.
In addition to high quality graphics and pleasing sound effects, there are several bonus games that add to your experience. For instance, players have come to love the Double D Vision bonus round. Sure, it may be a bit suggestive for some, but it's all in good fun.
Moving on, it wouldn't be an Aristocrat slot machine if you couldn't win free spins at some point.
Note: you can watch this video to learn how to play the free spin bonus game.
Last, but certainly not least, let's talk a bit about base gameplay. This is slightly boring when compared to other features of the game, but there's one thing that spices it up: you aren't required to collect like symbols on the same payline in order to win. Instead, all they have to do is touch in some way, shape, or form.
The Movie
No knowledge of the movie is required to play an Elvira Mistress of the Dark slot machine. However, it never hurts to understand why a company choose a particular theme.
Here are some interesting facts about the film:
Cassandra Peterson took on the role of Elvira.
Its budget was $7.5 million, but it only brought in approximately $5.5 million at the box office.
Other members of the cast include: William Morgan Sheppard, Daniel Greene, Susan Kellermann, and Robert Benedetti.
The soundtrack was one of the bright spots, thanks to the inclusion of I Put a Spell On You.
Peterson received a Razzie Award nomination for Worst Actress (this is not a good thing)
If you've never seen the movie, you may want to check it out the next time you have a chance. It may not pique your interest, but it could help you better understand the casino game.
Playing an Elvira Mistress of the Dark Slot Machine
Don't confuse this game with the one that was released by IGT in the 1990's. It's much more advanced than that, thanks to the use of the Arc Double cabinet. This provides everything from two 42 inch curved LCD screens to an ergonomic design to 5.1 stereo surround sound.
Even if you hated the movie, don't let this sour your thoughts on the slot game. If you do, you could be missing out on something that suits the way you like to play.
An Elvira Mistress of the Dark slot machine has a cool theme, advanced technology, and plenty of high level bonus games. For many, this is enough to get excited. How do you feel?