As a company that has been around since 1998, Realtime Gaming (RTG) has been a major player in the online casino space since day one.
Due to its long history, it goes without saying that the company has developed many games. Along with this, RTG has never had an issue changing its ways to ensure that players are provided with the best possible experience.
When compared to some of its early offerings, it's easy to see that Eternal Love slots are more advanced in many ways. This doesn't necessarily make it a better game. It simply means that RTG is keeping up with the times.
As noted by the name, this game is all about romance (in a gothic kind of way). While the theme is unique, many find that it's similar in some ways to the popular Twilight saga.
A Theme for the Ages
While some may not agree, we think the theme of Eternal Love is somewhat similar (in a very loose way) to that of the Downton Abbey slot game by Aristocrat.
Everything about this game is based on love and vampires, meaning that the symbols are exactly what you would expect. From headstones to bats to a variety of unique characters, players are drawn in with each spin of the reels.
Features Make the Game
Sticking with the fact that this is one of the more advanced RTG video slot machines, the game uses five reels while offering 243 ways to win.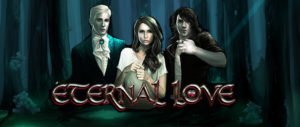 Once you choose your bet size, it's on to base gameplay. Since this is where you'll spend most your time, it's nice to know that several winning combinations payout $1,000 or more.
At SlotsJack, we know how important it is for base gameplay to be up to par. We also know that most players choose a machine because of the extra features. Some of those that make the Eternal Love slot game so special include:
Free games. Ten free games are trigged when you collect three or more coin symbols (this is the scatter) anywhere on the reels. After your free spins are gone, a multiplier of anywhere from 3x to 100x is presented (as long as the life force value is met).
Extended life. In the event that the life force value is not met during the first 10 free spins, extra games are awarded.
Scatter payout. As noted above, the scatter symbol is used to trigger the free spin round. But there's something else to remember: this symbol also awards instant payouts, which can reach as high as 200x your initial wager.
External love wild symbol. Available on both the second and fourth reels, this symbol can replace all others with the exception of the scatter. With the right combination of wilds, your payout can be multiplied by as much as 81x your wager.
With these special features powering the game, there aren't many times when the action slows down.
Play for Free
Even though there are many reasons to play Eternal Love with real money, that doesn't mean it's the best choice for you.
Some would rather play for fun, including those that don't want to take the risk of losing.
Also, playing Eternal Love for free is a good plan if you want to learn more before wagering real money. This gives you the opportunity to understand how the game works, while formulating a strategy that suits your budget and style.
Final Verdict
On the plus side, Eternal Love is one of the most advanced games ever released by RTG. This doesn't take into consideration the intriguing theme and variety of extra features.
Conversely, some people find that the theme is too closely related to others. We can see how this may be true, but it's not really a problem for us.
Overall, if you're seeking an online slot machine that provides a thrill a minute, plus the chance to win thousands, you'll want to experience Eternal Love first hand.