At the beginning of time, it goes without saying that there were no casinos and slot machines. Instead, everything was simpler, with nothing more than primitive creatures making their way around the world.
Over time, however, evolution took hold. Fast forward to today and humans are more advanced than ever before. And of course, the online casino industry has grown bigger than most have expected.
With all this in mind, we'd like to introduce the Evolution slot machine by NetEnt.
Although this game is based on the theory of evolution, it's not nearly as complicated. In fact, it's not complicated at all. As long as you know how to play online slots, even if only for free, you can get involved in no time at all.
Let's Get Started
There are 5-reels and 25-paylines guiding the action, which is a layout that most bettors are familiar with.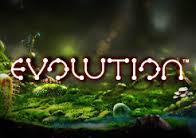 One thing you will notice is that the reels spin from bottom to the top instead of the other way around. This doesn't have any impact on how you play or whether you win, but it's one of those small details that alters the experience (in a good way, of course).
With fixed paylines, you're required to place a wager on every line. However, there are 10 bet levels that provide flexibility, allowing you to settle on something that fits into your budget.
Coin denominations start at .01 and top out at .50. There is a minimum wager of .25 coins, with the maximum set at 125.
Note: the top payout is 44,000 coins, which is on the low end when compared to other NetEnt video slots. For a game with a maximum wager of 125 coins, it's disappointing to see such a small jackpot.
The Free Evolution Slot Game
If you don't care about winning money, if you can't legally play online slot machines in your country, turn your attention to the free version of the game.
With free Evolution slots, the casino doesn't require you to deposit any money in order to spin the reels. Instead, you can play with nothing more than fun on your mind.
Tip: since the free and real money versions of the game are the same, you can easily switch from one to the other without any learning curve.
How to Play
NetEnt slots have always been popular among bettors who enjoy spinning the reels on a traditional desktop or laptop computer. Here's why: this provides the ability to fully experience the graphics, animation and audio.
If you're not the "computer type," you can play Evolution on a mobile device. Compatible with Android and iOS operating systems, among others, you have the opportunity to play via your smartphone or tablet.
The Theme and Features
With an evolution theme, you may not know what to expect. NetEnt decided to keep it simple by using playing card values along with images of prehistoric creatures (with a cartoon appearance).
Once you realize that the theme won't change how you play, you'll turn your attention to the features. There are three that make this game special:
Wild symbol
Free Spins bonus
Evolution feature (during free spins)
The wild symbol and Free Spins bonus are self-explanatory as they are used in many online slot machines. However, the Evolution feature is one that is unique to this game.
With this, players move up the evolutionary chain as the free spin round takes hold. Your payout increases with each winning symbol. Even better, lower value symbols are removed from the game altogether. This is by far the best way to take home big winnings.
A Complete Evolution Slots Review
We strive to provide as much information as possible for every slot game. With Evolution, you should now have a clear idea of how to get involved and what to expect as you spin the reels.
We'll be honest in saying that this isn't one of our favorite games. It has some nice features, as well as a unique theme, but there are two things that bug us:
The Evolution feature is the only one that is truly unique to the game
The top payout of 44,000 coins is on the low end
Although these areas are a bit disappointing, we don't want you to overlook the fact that you could have an enjoyable experience. There are many people out there who consider this one of their favorite online slot games.
Here are the three things we like best:
You can play for free and with real money via your desktop computer or mobile device.
The Evolution feature is designed to help you win more money in a shorter period of time.
The graphics and audio are top of the line, allowing you to remain engaged as you play.
Now that you've compared the good and bad, it's time to make up your own mind. Once you play the Evolution slot machine, you can decide if it's one of your favorites or a game worth forgetting about.