What do you see when you examine the long list of online slot machines developed by NetEnt? Like many, you may see nothing more than excitement and the opportunity to win a lot of money.
However, we see something different: a company that likes to take a walk through history. This can be see with the Evolution video slot, a game that takes you back to a time when the world was in its infancy.
This time around, we're going to review Excalibur slots, a machine that is based entirely on the famous tale of King Arthur.
Before we get into the finer details of the game, let's examine a few things about King Arthur:
He is known as a legendary British leader who lived sometime in the 5th and early 6th centuries.
His exploits have been at the center of many books, movies, and television shows.
There are many myths surrounding King Arthur, which makes it difficult to separate fact from fiction.
Despite the fact that King Arthur is a somewhat mysterious figure, there is none of this when you decide to play the Excalibur slot game. Instead, everything is laid out in front of you.
Your Battle Awaits
There is no hand to hand combat associated with this game, but there are plenty of battles (good ones, of course) awaiting you.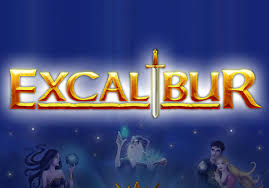 In addition to high quality graphics and audio that has a way of building anticipation, this slot machine is configured with 5-reels and 20-paylines.
The biggest payout is available during the free spin round, with all your winnings tripled (more on this below). If luck is on your side, you may be able to secure the top jackpot of 120,000 coins.
In addition to coin denominations that range from .01 to 1.00, there are four bet levels to choose from. This allows you to customize your wager to suit your budget. With a minimum bet of .01 and a maximum of 80, most players can find a way to play.
Excalibur: A Free Slot Machine
If you don't have any money to wager, if you are unable to legally spin the reels in your country, you should turn your attention to free Excalibur slots.
As an online game, you can spin the reels for free or with real money. Some players don't have the desire or ability to wager cold hard cash, so they opt for the free play version.
Due to the excitement of the theme, as well as the presence of several high end features, playing for free is an experience you are sure to enjoy – even if you can't win anything in return.
Play on Your Tablet or Smartphone
Every internet slot game can be played via a computer, and this one is no different. All NetEnt slots are compatible with Mac, Windows, and Linux operating systems.
While some developers come up short in regards to being mobile friendly, NetEnt has taken the opposite approach. The majority of its games can be played via most tablets and smartphones, with Excalibur part of this list.
Many Ways to Win
You'll never be confused by the reel symbols, as all of these are based on the knight theme. In addition to a variety of unique symbols, such as the knight on a horse, you will also find playing card symbols laid over top of a shield.
Base gameplay provides many ways to win, but it's the bonus features that generate the most excitement.
For example, the Excalibur sword acts as a wild, with this standing in for all other symbols (except the scatter and the Golden Wild).
Speaking of the Golden Wild, this appears on the third reel and can substitute for every symbol outside of the scatter. According to NetEnt, any win with this wild in place triggers a 4x multiplier.
There is also a Free Spins bonus, with this activated when you collect three or more scatter symbols (golden goblet) anywhere on the reels:
Three scatter symbols award 10 free spins
Four scatter symbols award 20 free spins
Five scatter symbols award 30 free spins
Regardless of how many free spins you receive, any win during this bonus triggers a 3x multiplier.
Excalibur Slot Game Review
If you like history, slot machines, and the opportunity to win plenty of money, you'll enjoy everything about the Excalibur game.
This slot has received solid reviews from bettors, and we can see why. From the theme to the bonus features to the 120,000 coin jackpot, it has plenty to offer.