NetEnt never backs away from a theme that could excite a large number of players. With the FairyTale Legends Red Riding Hood slot machine, you'll find a game that is designed with the player in mind.
In October 2016, the company launched its FairyTale Legends series to the public. And which game was first? You guessed it, Red Riding Hood!
It only makes sense that fairytale themed games would be popular, as most people are already familiar with the themes. For example, the Little Red Riding Hood story has been told for many years in hundreds of languages.
While NetEnt has a variety of additional fairytale slots ready for release, this one is somewhat special being that it's the first.
Off the bat, there is a lot to like about this slot. For example, the design is second to none. Along with this, it's packed full of high level features such as:
Sticky Wild Re-Spins
Fairy Surprise
Fairy Wild Spins
Fairy Magic Spins
While there are players who believe that NetEnt goes overboard with features, we aren't part of this group. Instead, we believe that more is always better.
If you're seeking an online video slot that is every bit as creative as the fairytale itself, you can't go wrong with Red Riding Hood.
Magic, Excitement, and a Good Time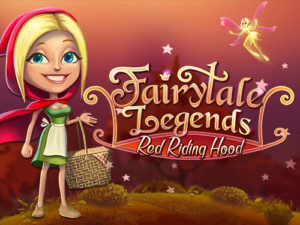 At first, you may be mesmerized by the theme of the game. However, once you get past the cool graphics and advanced audio, you'll realize it's time to settle in and enjoy your experience.
FairyTale Legends Red Riding Hood slots are equipped with 5-reels and 20-paylines. This is a standard configuration that is shared by many other NetEnt slot games, such as Excalibur.
Some players are looking for something more unique, especially in a newly released game, but we don't take the same stance. Instead, we enjoy the standard layout, as this makes it easier to understand how to play.
The theme itself, as well as the reel symbols, is exactly what you would expect, with everything based on the Little Red Riding Hood fairytale. So, if you're familiar with the story, you'll know exactly what you're looking at as the reels begin to spin.
Adding to the above is the ability to wager anywhere from .20 to 200 credits per game. With a fixed payline approach, you never have to worry about choosing how many paylines to play. Instead, it's all about selecting the wager that best suits your budget.
Play Red Riding Hood Slots for Free
Some players don't have the money to get involved with online slot machines. Others aren't permitted to spin the reels in their country.
If you fall into one of these two categories, you can still take part in this magical experience. Instead of depositing real money, you'll simply visit the online casino of your choice (powered by NetEnt games, of course) and play for free.
If for any reason you change your mind in the future, you'll be glad to know that the free and real money versions are identical. This provides the opportunity to seamlessly move from one version of the game to the next, never worrying that a major detail will change.
It's Mobile Friendly as well
You can play for free or with real money on your computer, but that isn't the only way to get involved with a FairyTale Legends Red Riding Hood slot.
As a mobile friendly game – which is what players have come to expect from NetEnt – you have the opportunity to play on your smartphone or tablet as well.
For example, many bettors enjoy using their iPad to play this game. While most mobile players have an iOS or Android device, it's also compatible with other operating systems.
Features Rule this Game
As noted above, NetEnt never stops short when implementing features. This is even more so the case with games that were released in 2015 and beyond.
The company talks up the many features offered by the Red Riding Hood video slot, giving players reason to get excited.
For example, the Beware the Wolf Bonus Game is one of the most exciting features that we've come across in any online slot machine – and that's saying a lot. While the theme itself has a lot to do with this, the actual bonus has a way of sending a jolt of adrenaline through the computer and into the player's body. Here's why: if you have the courage to take on this game, if you have some luck on your side, you can win up to 200x your original wager.
We also enjoy the free spin game triggered by the scatter treasure chest symbol. Awarded at random, along with two other bonus games, it's good for 10 free spins along with a re-trigger and the Sticky Wild Re-Spin feature.
Our Review: A Legend in the Making
If early returns are any indication, the FairyTale Legends Red Riding Hood slot machine may end up being one of the top games ever developed by NetEnt.
There will always be players who don't "get" a particular game, and this one is no different. However, when you look at the big picture, it's easy to see that it has everything a player could want. We're particularly big fans of the following:
The theme itself, as it's not only based on a fairytale but the graphics are second to none.
The variety of bonus features, putting you in position to have a truly unique experience every time you play.
The ability to spin the reels on a computer or mobile device.
The option to play with real money and for free.
The fixed payline arrangement, which makes it easier for players of all experience levels to understand their betting options.
By reading this Red Riding Hood slot review, it's easy to see that we enjoy every aspect of the game.
It's not easy to say this about an online slot machine, but there's not much NetEnt could have done differently. The company set out to make the most of its FairyTale Legends series, and this game definitely knocks it out of the park.