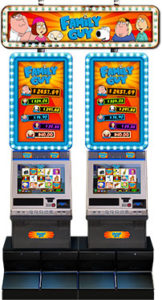 Playing a Family Guy slot machine is sure to generate just as many smiles as the classic animated series.
When you sit down to play this game, it won't be long before you are in touch with the whole gang. Peter, Lois, Meg, Brian, Chris, and Stewie, the entire cast plays a big role in keeping players engaged.
IGT is the mastermind behind this casino game, introducing a video slot with graphics and audio that has attracted millions of players at establishments throughout the world.
Although the theme and overall setup is enjoyable, it's the six multi-level progressives that keep players coming back for more.
It's not easy to win the progressive jackpot, but the opportunity is always there. With a little bit of luck, you could find yourself cashing out for hundreds of thousands of dollars (or more).
How to Play Family Guy Slots
A 5-reel, 30-payline setup means that this slot machine is similar to many others in the IGT lineup. But despite the same number of reels and paylines, this game is 100 percent unique. There is nothing about Family Guy slots that will have you comparing it to another game. Just the same as the television series, it's truly one of a kind.
Base game features are enough to keep you engaged, excited, and looking forward to the next spin. With many of the same shenanigans as the animated show, you can expect to laugh out loud from time to time. Of course, this is much easier when you are winning.
Some of the funniest, yet profitable, features of a Family Guy slot machine include:
The Family Guy Favorites feature, allowing you to watch clips from the show in between reel spins.
The Classic Cutaway feature, which leads to free credits after taking in a clip from the show.
Breaking News Bulletin with local updates direct from Quahog, R.I.
As you can see, you don't need bonus rounds or big wins to have fun with this game. Instead, base gameplay has plenty to offer.
Fortunately, IGT didn't stop here. In true fashion, the company attached multiple bonus rounds to the game, ensuring that there is always something extra to keep you playing.
Say Hi to Your Favorite Characters
It's one thing for your favorite characters to make their way to the screen. It's another thing entirely to say hello while receiving an award. These include:
Peter's Random Credit Award
Brian's Bonus Boost
Lois' Scatter Pays
Stewie's Random Wilds
Chris' Wild Symbols
Meg's Multipliers
For example, Peter's Random Credit Award adds credits to your account for doing nothing more than playing the game. It doesn't get any easier than that.
Six Bonus Rounds
As you compare a Family Guy slot machine to others, you may ask yourself this question: besides the theme, what makes it worth my time?
If the above features aren't enough to get you excited, maybe access to six unique bonus rounds will get your blood flowing.
Each bonus round is based on one of the show's main characters. Entering one of these is as simple as landing three World Domination symbols on the reels. Here is a list of the bonus rounds:
Stewie's World Domination Progressives
The Drunken Clam Bonus
Brian's Big Dig
The Chicken Fight Bonus
Chris' Closet Bonus
Lois' Hot Free Spins
As a regular player, it will only be a matter of time before you enter all six of these bonus rounds. At that point, you'll have a better idea of which one's your favorite.
Here's the good thing: know matter which Family Guy bonus round you enter, you are sure to enjoy the experience and win some money.
Lois' Hot Free Spins bonus is a player favorite, thanks to the fact that you receive 15 free spins. During your free spins, six new symbols appear on the reels, giving you a unique playing experience. Along with this, the pay table changes for the better, meaning that you have the opportunity to win even more money.
Do you remember the chicken fight episode? Well, this is what the Chicken Fight Bonus is based on.
As the name suggests, this bonus round gives you the opportunity to stage your very own fight against a giant chicken. During the bonus round, you're prompted to select sacks that contain anywhere from 5x to 1,000x of the coin value that led to the bonus. As you move from one round to the next, the multiplier increases.
Interesting Family Guy Facts
How could a game based on an animated series become so popular? Just the same as movie based slot machines, people love to play games associated with their favorite television shows. And as you know, Family Guy is one of the most successful cartoons of all time.
As an adult oriented animated sitcom, it only makes sense that this theme would appeal to slots players.
Here are a few things about Family Guy that you may not know:
The show regularly receives more than 10 million viewers for a single episode.
Family Guy has built a huge social media base, with more than 50 million fans.
Many celebrities have played a part in the series, including big names such as Candice Bergen, Gary Cole, Adam Corolla, Gene Simmons, and Drew Barrymore.
When it comes to the awards circuit, Family Guy is no stranger. Consider this:
The show and its cast have been nominated for 13 Emmy Awards, winning on five different occasions.
Multiple nominations and wins at the People's Choice Awards and the Teen Choice Awards.
With recognition like this, it's no wondering why IGT decided that a Family Guy slot machine was a good idea.
Play this Game for Laughs and Big Money
It's hard to find another casino game that offers as many laughs as this one. But remember this: there is more to Family Guy slots than the theme. With the right strategy and some luck, you have the chance to win big money both in base gameplay and one of six bonus rounds.