Known officially as Fantasini: Master of Mystery, this popular NetEnt online slot machine has garnered a large following thanks to its simplicity, large jackpot, and many ways to win.
We'll get straight to the point by telling you about two of the top features of the game:
A jackpot of 270,000 coins
243 ways to win
When you combine these features with a variety of others, such as Linked Reels, you have a video slot that is sure to attract the attention of all types of bettors.
Master this Slot Game
If you want to become the master of the Fantasini Master of Mystery slot machine, you should focus on learning the finer details of the game.
For example, there are 5-reels and 3-rows. Yes, this is basic when compared to other games from the company, such as FairyTale Legends Red Riding Hood, but the simplified configuration allows anyone to sit down at their computer and spin the reels. In other words, there is no learning curve here.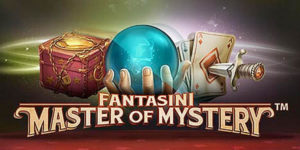 Although you don't have the ability to adjust the number of paylines, you can customize the coin denomination and bet level. This allows you to wager anywhere from .25 to 125 coins per spin. With such variety, Fantasini Master of Mystery slots fit into the budget of all types of players.
Free Play Option
Even though there are many coin values, which allows players of all budgets to get involved, there will always be those who don't enjoy real money slot machines. This is why NetEnt offers a free version of almost every game.
Tip: play the free game to start, and then switch to the real money version once you're comfortable with the finer details of how to play.
Mobile Friendly – Android and iOS Fun for All
Thanks to NetEnt Touch, most of the company's games are mobile friendly.
Fantasini Master of Mystery fits this mold, with players provided the opportunity to spin the reels on all types of mobile devices. Most bettors use an Android or iOS smartphone or tablet to play, but you can also get involved on a Windows or BlackBerry device.
Regardless of the technology you use, it's nice to know that you don't need to be sitting at your computer in order to play.
The Features Will Win You Over
Have you ever played an online slot machine that was short on features? NetEnt doesn't believe in this, but instead packs all of its games with as many features as possible.
Fantasini Master of Mystery is one such example, with the Linked Reels feature leading the charge.
At the beginning of each spin, two adjacent (and identical) reels are linked together. During the spin, these two reels have the ability to expand to become quintuplet, quadruplet, or triplet reels. As the reels expand, you'll find that this has a positive impact on your ability to win bigger payouts.
A Fantasini Master of Mystery Review
The theme of this game is all about magic, but you don't need any of this on your side if you want to come out a winner.
Instead, your job is simple: spin the reels, cross your fingers, and wait for something good to happen. You may never win the 270,000 coin jackpot, but there are plenty of other payouts that bring excitement to the game.
With the help of our Fantasini Master of Mystery slot review, you should now feel better about your understanding of the game and where you fit in. There's a lot to like here, so don't hesitate to spin the reels for free or with real money. This is one of those games that you won't fully understand until you have a personal experience.