Old school boxing is nothing like what you see today. Go back in time 100 years, and it wasn't out of the question to lay eyes on fighters who weren't wearing gloves. Talk about tough!
Fortunately, there is nothing difficult about Fisticuffs slots by NetEnt. Instead, this is an easy game to play and understand. While the theme may be based on the sport of boxing, you don't have to worry about getting beat up by the opponent.
The history of boxing is extremely interesting, however, you don't need to know much (if anything) in order to play this game. Instead, as long as you know how online slot machines work, you're in good shape.
Here's something to think about: in the early 1900's, boxers didn't get paid nearly as well as they do today. Now, it's not out of the question for top boxers to pull down tens of millions of dollars for a single fight.
With the Fisticuffs slot machine, NetEnt brought together the best of both time periods. The excitement mirrors that of the early days of boxing, while the payouts are more in line with what fighters receive today.
Get in the Ring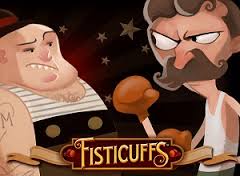 Before you decide to get in the ring, it's a good idea to learn more about this online video slot machine.
First things first, there are 5-reels and 10-paylines. This doesn't sound all that exciting, but the basic configuration allows any player, regardless of experience level, to come out swinging.
We'll discuss features in greater detail later in the review, but for now we want to leave you with this: Fisticuffs is full of high level features, such as a re-spin and Win Both Ways, that add to the action.
The Fisticuffs Free Slots Experience
If you're playing with real money, you need to know that coin denominations range from .01 on the low end to 1.00 on the high end. This gives you plenty of options.
Note: the minimum wager per spin is set at .20, with the maximum reaching 200.
Some players don't have the desire (or the ability) to play with real money. This is why the free Fisticuffs slot game has become a big hit.
This allows you to spin the reels without depositing money into your account. It's as simple as signing up for a player account at a NetEnt casino, navigating to the Fisticuffs game, and getting started.
While you don't have the opportunity to win any money, including the 100,000 coin jackpot, there is no risk either.
A Mobile Game
You can play for free or with real money via your computer or mobile device.
Some players enjoy the mobile experience, as it allows them to get involved on their smartphone or tablet. For example, you can play Fisticuffs on your iPhone, giving you access to a smooth and detailed experience with which you can enjoy all the graphics and sounds the game has to offer.
Note: the game is compatible with iOS and Android operating systems.
Powerful Features
The features of the Fisticuffs slot machine are every bit as powerful as a boxer's punch.
It all starts with the wild feature (heavy boxer with short-shorts). Appearing on the third reel, he stands in for every other symbol to help you form winning combinations.
There is another wild, known as the diagonal wild, which is depicted by a skinnier boxer with a mustache. He appears on the second and fourth reel, and once again substitutes for any other symbol.
The Boxing feature is full of good times, with this bringing an added level of animation to the game. In short, it changes adjacent symbols into wilds. From there, the wild symbols remain on the reels during a re-spin.
Last, but certainly not least, is the Win Both Ways feature. This is used in many other NetEnt slots, like Dragon Island, and is exactly what it appears to be. It gives you the chance to win with symbols spanning left to right and right to left.
Our Fisticuffs Slot Machine Review
NetEnt has a lot of positive things to say about Fisticuffs slots, and after experimenting with the game it's easy to see why.
There are a variety of slot machines with a sports theme, but this one remains a favorite among many players. Here are some of the things we enjoy:
The large 100,000 coin jackpot
The use of bonus features, particularly Win Both Ways
The opportunity to play on mobile devices
The variety of coin denominations
The ability to play for free
What do you think about these features? Are these the types of things that you like to see in an online slot machine game? If so, we're confident that you will enjoy Fisticuffs.