If you never get tired of games based on Greek mythology, you'll want to read this review of the Flame of Olympus slot machine by Aristocrat.
Designed with the same type of theme as Phoenix Fantasy, this straightforward and simple to play game keeps players engaged and excited as the reels spin.
In simple terms, Flame of Olympus is based on the Titan Prometheus. This detail may help you better understand the theme, but it's not something you need to know much about in order to play.
The Basic Details
If you're going to play, you need to understand the basics. This starts with the 5-reel, 20-payline configuration that has become an Aristocrat favorite over the years.
The only thing you need to care about is collecting the same symbols on a single payline, as this is how you win. Just how much you're awarded depends on two details:
The amount of your initial wager.
The symbols that you collect on a winning payline.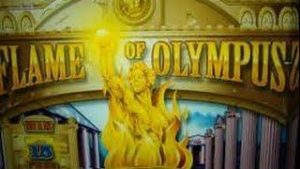 Before you spin the reels, you have the flexibility to select your wager as well as the number of paylines. If you're feeling cheap, start slow and see if you can build your bankroll. Conversely, if you want access to the largest payouts, it's time to think about a max bet.
Note: for those in a hurry, those who want to play more efficiently, or those who like a hands off experience, Flame of Olympus slots offer an auto-spin feature.
Reel Symbols and Payouts
The reel symbols and payouts go together hand in hand. With two paytables, it won't be long before you understand what's needed in order to win.
On one paytable, you'll find payouts associated with playing card combinations. For example, three king symbols will payout a moderate amount of money.
Note: the playing card symbols don't payout as much as others, with your winnings capped at 125x your initial bet.
The action that you're looking for is associated with the unique set of reel symbols. These include but are not limited to a temple, fire, banquet table, and a beautiful goddess.
If you want to know why these symbols are more intriguing, get this: the highest payout is 750x your initial bet, which is six times higher than the playing card paytable.
Now that we're on the subject of symbols, let's examine a couple that hold a special place in this game.
The Prometheus symbol is wild, meaning that it has the power to stand in for any other symbol. Along with this, it's the most valuable symbol in the game, with five of these giving you a massive payout of 9,000x your wager.
The scatter symbol is depicted by a set of coins, with three of these leading you directly to the free spin bonus round. To go along with a minimum of 15 free spins, a 3x multiplier is also activated.
As you can see, there's a lot going on when playing a Flame of Olympus slot machine. Even so, the traditional layout and classic approach make it easy for players of all skill levels to catch on.
Steps to Play Flame of Olympus Slots
If at any point you decide you want to play this game, the steps for getting started are simple.
Job number one is to locate the game in a land based casino. If you need help with this, you can use the Aristocrat slot locator for assistance.
Note: despite the popularity, this game is not available in its official form online.
After you lay eyes on a machine, sit down and decide how much you want to wager and how many paylines you want to play.
From there, it's time for the fun to begin. The reels will spin and you'll find out if you're a winner.
Rely on Our Detailed Review
Some players find it difficult to play classic slot machines, thanks in large part to the fact that more modern and technologically advanced games are scattered throughout the casino.
If this doesn't bother you, if you'd rather play in this manner, Flame of Olympus is a good place to cut your teeth.
Aristocrat did a nice job with the theme, graphics, and sound effects. Along with this, it doesn't come up short in regards to payouts and bonus action.
If you want to win big, you'll need a little help from the wild combinations and the free spin game. This may be asking a lot, but you never know when things will turn your way.
Final note: this player had incredibly good luck, winning nearly 20,000 credits (all the while having a great time).