In an industry that's so crowded, it's hard to imagine that slot companies are able to develop unique themes time after time. However, this is one area in which Realtime Gaming continues to excel.
You don't have to look any further than Food Fight slots to see what we're talking about. This game, as immature as it may appear on the surface, has some of the coolest features and graphics you'll ever come across. Even if you don't take into consideration how much you can win, the theme alone should be enough for you to give it a try.
Let's start by saying this: the Food Fight slot machine has five reels and nine paylines. This is one of the most basic configurations you'll come across, but that doesn't take anything away from the features of the machine.
With a variety of bonus games and a jackpot of 4,000 credits, there's always something to keep you on the edge of your seat, wondering when the food will begin to fly!
Yes, You Can Play With Your Food
Back when you were a youngster, it's safe to say that you heard the phrase "don't play with your food" on a regular basis. Well, now that you're grown, this all goes out the window. This is particularly true with this game.
The reel symbols will ensure that you're always playing with your food, as these range from pizza to hamburgers to spaghetti (and those are just a few of the most intriguing icons).
Despite the fact that 3D graphics are missing, you'll still enjoy everything you see on the screen. There are a couple of reasons for this, including the following:
All of the images match up with the theme.
The vibrant colors help keep your eyes attached to the screen.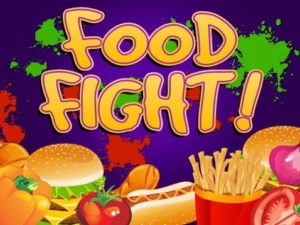 RTG has been developing online slot games for many years, with many of its latest offerings, including the popular Eternal Love machine, known for its advanced graphics. Food Fight doesn't fit this mold, but in our opinion it still has a special place in the online gaming world.
Fill Your Stomach with Wins
It doesn't matter if you're playing Food Fight slots morning, noon, or night, there should only be one thing on your mind: satisfying your appetite by winning as much money as possible.
While the five reels are always in the same place, the nine paylines require a bit more attention.
You have the opportunity to wager on anywhere from one to nine paylines, depending on your mood and how much you're willing to risk. Plus, you can wager anywhere from one to five coins on each payline, meaning that the maximum is 45 credits.
In true RTG fashion, you're provided with a pay table explaining how much you can win. While there are many small wins to be had, the 4,000 coin jackpot is always floating out there.
What about the progressive jackpot? You'll be hard pressed to forget about this, as there is a counter at the top of the reels showing the current value of the progressive.
Winning this means collecting five pudding symbols on the same payline, all after making a maximum wager. It's not the largest progressive, but a jackpot of a few thousand dollars isn't out of the question.
Get Messy During the Bonus Features
By now, you probably realize that Food Fight slot machines have plenty to offer during base gameplay. Adding to this, the bonuses are every bit as exciting.
The Ice Scream Scatter bonus is a player favorite, with this coming into play when you collect the following symbols on any reel position: cherry, ice cream, and an ice cream cone. If you do this, you're awarded a random bonus (the maximum is 405 coins).
You may have heard other players talk about the Food Fight bonus round, and for good reason, as this is one of the top features of any RTG game.
If you're lucky enough to create a cream pie, you're taken to a new screen with five characters staring you down:
Teacher
Nerd
Rocker
Hall monitor
Coach
Your job is simple: choose the character that you want to hit with the cream pies. Each time you hit the person you're awarded a prize. Best yet, as long as you keep having success, the bonus game continues. The most you can win during this feature is 3,960 credits.
Spin the Reels Free of Cost
Food Fight slots can also be played online for fun, meaning you never have to wager a single penny in order to get involved.
There are many people who enjoy the free version of the game, including but not limited to:
Those who don't like betting real money (because they're afraid they'll lose).
Those who aren't permitted to play real money online slot machines in their country.
Those who are aware that playing for free allows them to learn more about a machine before wagering real money.
If you fit into one of these categories, find an RTG powered online casino that offers the Food Fight game.
Food Fight Scenes from the Movies
Do you remember having a food fight with your brothers and/or sisters when you were young? How about in the school cafeteria?
While this may have gotten you in trouble, it's something that you're sure to remember for the rest of your life.
This is what RTG was thinking about when it created Food Fight slots. Also, don't forget about the many popular movies with food fight scenes, including favorites such as:
National Lampoon's Animal House
Hook
Fried Green Tomatoes
Matilda
It Takes Two
If you thought the action was fierce in these movies, wait until you play the game itself.
Our Food Fight Slot Machine Review
If we can say only one thing about this game, it would be this: the theme is truly 100 percent unique.
This may not matter to you, but it goes a long way in ensuring an enjoyable experience.
Of course, there are many other things to like, such as the progressive jackpot, bonus features, and ability to play for free.
Who's up for a food fight?